A new wrestling family in history
The countdown for the arrival of Daniel Bryan and Brie Bella's baby was up last week when the couple welcomed their baby girl into the world. On May 9th Brie Bella gave birth to Birdie Jo Danielson. The rest of the world would soon meet Birdie days after. WWE has reported that Birdie was born at 11:58 p.m. The healthy baby girl is eight pounds, ten ounces and twenty-one inches long.
Brie Bella opens up about motherhood
Brie Bella has released a statement to WWE.com about her new joy of motherhood. "There is no better feeling in the world than meeting your daughter. I can't even express the overwhelming joy and love that Bryan and I are feeling. Now we know what parents mean about the love you feel when you first meet your child. Thank you all for your thoughts and prayers on the safety of Birdie coming into this world."
What kind of birth?
Thanks to reality television, wrestling fans have a good insight into the personal life of the stars on Total Divas. From being on the show, fans know that Bryan and Bella strive to live a natural lifestyle. This has made some fans curious as to how the couple would welcome their newborn into the world. It's no surprise that the pregnancy will be covered in the second season of Total Bellas, but that still has yet to premier. After posting a video on their YouTube channel, fans can note that Birdie was born in a hospital, rather than a home birth. No word yet on the procedure of the delivery.
The couple's comments on the delivery
Both parents have since shared their experience of the delivery in a video found on the Bellas' YouTube page. "It was a very crazy process," Brie shared with her fans, as she laid in bed with her baby girl sleeping by her side. "I'm so lucky I had Bryan by my side the whole time, and then my sister- who's filming this right now- by my side the whole time, which was amazing. But at the end of something so hard and long, the most precious gift in the world came to us. We couldn't be happier. So thank you for all your love and support."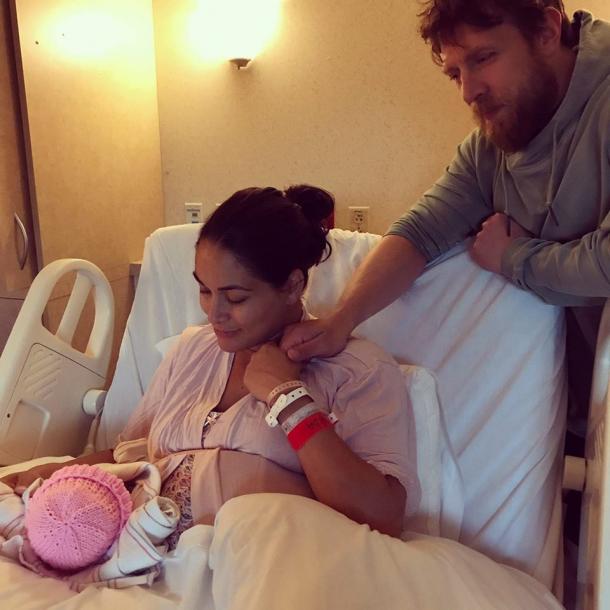 Brie would turn the attention onto her husband who had this to say: "This woman is a warrior. What she went through on Tuesday…never in my life could I do that." The couple didn't go into further details, as not to wake the sleeping baby. Brie promised that Birdie will say hello to all the fans, just not while she's sleeping.
Birdie Joe Danielson made her arrival just in time too. "I'm so happy I get to go home now but I couldn't have done it without all the nurses this week. They are true rock stars and they taught me so much. I can't believe I get to celebrate Mother's Day tomorrow as a Mom." Well wishes to the new family, here from Vavel.