The 2016 Royal Rumble is quickly approaching and we already know one name who going to be involved in the match, Goldberg. The former WCW star announced his role in the match during the Monday Night Raw following Survivor Series.
Now, the Royal Rumble is for 30 superstars, not just the one so there are 29 other spots to fill. All sorts of names will be mentioned in the coming weeks but it seems like the WWE has already settled on their second entrant in the match.
According to ProWrestlingSheet, Brock Lesnar is scheduled to be involved in the match.
This year's event will be held at the 65,000 capacity Alamodome and with the WWE going big for this year's Rumble, they'll need to fill seats and set up storylines for WrestleMania 33 in Orlando, Florida.
Setting up a WrestleMania rematch
With Goldberg and Brock Lesnar likely entering the Rumble close to each other, it gives the WWE a chance to create a third and possibly final match-up at WrestleMania 33.
As Goldberg picked up the dominating victory at Survivor Series, it's very easy to see Lesnar's motivation to ruin the former WCW star's chance at becoming a champion once again in the WWE.
Should it play out that way, the WWE would have no other option but to book the pair against each other in Orlando, with a chance to make their disappointing WrestleMania 20 match a distant memory.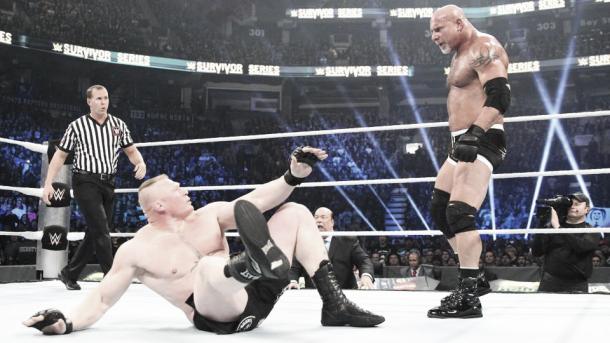 Other names rumored
Since his return to SmackDown Live during the 900th episode a couple of weeks ago, it's clear that The Undertaker could be around the WWE for some time.
It's quite possible that The Phenom could enter the Royal Rumble with his eyes on a shot at the WWE World Heavyweight Championship at WrestleMania.
The WWE also like to throw a number of surprise entrants into the people, superstars who may not have stepped foot in the squared circle for a number of years.
Names like Jake 'the Snake' Roberts and Kevin Nash have been rumored at one point or another and are likely to be mentioned again closer to the event.