SmackDown comes to a close with The Undertaker's message, good segment to end a fun show, thank you for joining me.
Undertaker says there is no reason to fear failure but if they fail they will have reason to fear the Deadman. Undertaker states that Team Raw best 'Rest In Peace.'
He claims SmackDown has always been his home and he was born at Survivor Series which brings him to his second reason....
1- WrestleMania will not defy who he is, Undertaker claims he is BACK.
Undertaker is here for two reasons
Taker stares at Shane O'Mac and then claims there is no better man to run SmackDown than a man who has no fear, he tips his hat to Shane as a nod of respect, cool moment.
It really is great to see Taker back home on SmackDown, especially with Edge.
Fantastic reaction for Undertaker, as expected. What is he going to have to say here?
Styles and Dean Ambrose now make it clear that they are not finished with each other and Ambrose promises to take his title back at TLC. Styles teases that he might not play as a team but they are all interuptted by.... THE UNDERTAKER.
He tells Edge to ask a question to someone who matters, so he speaks to Randy Orton who doesn't respond but Wyatt tells him that this Sunday we will see a new Randy Orton.
Ellsworth asks if he can do a 5 second pose with Edge, but AJ Styles stops them both before it takes place, claiming it is stupid.
The Rated R Superstar claims that he is invested in SmackDown and wants them to win, he brings out the team now.
Edge is back! What an ovation, I have certainly missed this man and his amazing theme song and they have got Tony Chimmel to return just to introduce him, great stuff.
Grand Amplitude to finish off and team SmackDown get the victory with American Alpha picking up the pin.
Huge suplex from the top turnbuckle by Chad Gable and it is finisher time for everyone here as the match draws to a close.
The longer we wait, the more I can see The Undertaker taking out Randy Orton and adding himself to the Survivor Series match, setting up a future WrestleMania feud, only half hour left.
Back from the break and team SD are in charge, dealing with the Spirit Squad, in particular with The Usos showing good double team work.
It's 16 man tag team action up next, this one could be messy, just like Sunday's tag match has the potential to be.
Quick promo video for Goldberg - Brock Lesnar, WWE has done a good job building this match and it feels like a legitimate main event match.
Nia Jax goes crashing through the barricade and Naomi leaps from the top ropes to take out all the women with SmackDown standing tall.
This match is over as Nikki Bella attacks Charlotte but the entire Raw team invades and takes out the ladies, but now the entire SmackDown team is here- it's a scramble.
Raw Women's Champion Charlotte has arrived and she has a ringside ticket to watch the competition a little closer.
Carmella is in complete control here, working the neck in several different ways, but Nikki avoids the Bronco Buster and has a chance to get back into the match.
Neck breaker to Nikki onto the outside, nasty bump considering her previous injuries.
Bella is in control during the early outgoings but Carmella taunts her and uses her speed to get some offense in.
Women's action is up next as Nikki Bella makes her way down to the ring.
King Booker is here! He is giving an inspirational speech to the SmackDown tag teams ahead of Sunday.
Still, to come, Nikki Bella takes on Carmella and we get a glimpse of the Deadman!
Winner- The Miz
Ziggler get's a small package but Maryse pushes them both allowing Miz to get the painfall and The Miz is once again the champion!
It's the Spirit Squad, they distract Ziggler which allows The Miz to lock in the Figure Four submission.
Ziz Zag! But Miz get's his foot on the ropes, both men have hit their finishers and neither have proved to enough so far.
Miz once again mocks Daniel Bryan with his YES kicks and a running knee followed up by a Skull Crushing Finale and somehow Ziggler kicks out to keep this one going.
It has been a good TV match so far but having two breaks in the match has certainly hurt it from a viewers perspective.
The challenger is caught using the ropes to his advantage and he turns into a Famouser and Miz just kicks out as we go to another break, great nearfall.
Ziggler uses his pace to get ahead here, hitting a huge swinging neck breaker followed by an elbow drop bu Miz kicks out.
Back from the advert and The Miz suffers a huge dropkick as he jumps from the top rope, great counter by the champion.
Recent matches between these two men have been awesome, let's hope this one delivers on the same level. Of course, the winner takes on Sami Zayn on Sunday.
SmackDown is wasting little time, it's straight to the action as we are set for the Intercontinental Championship match between The Miz and the champion, Dolph Ziggler.
We are kicking off with SmackDown commissioner Shane McMahon to a thunderous reaction and he is joined by the GM, Daniel Bryan.
Here we go, it's time for the historic 900th episode of SmackDown, this should be a huge show.
With Kane recently being betrayed by Randy Orton, could Undertaker be out for revenge or will the Brothers of Destruction reunite for this special night? Nobody knows, but it is going to be a huge moment for this historic episode.
There have been plenty of rumors about what he will be doing on the show with some believing he is here to start his feud for WrestleMania, whilst others think it could be a way to organize a last minute match for Survivor Series.
That's right, for the first time since WrestleMania, The Undertaker is returning to a WWE ring and in particular back home, to SmackDown. Some had wondered if the Deadman had retired but that doesn't appear to be the case and as usual, his return and more importantly the reason behind it is a total mystery.
The Undertaker returns
Survivor Series also see's the best tag teams of the two brand's compete against each other and on the 900th episode the teams from SmackDown will get their final chance to work out any issues they have, but will they be able to?
Tag Team battles
If their previous encounters are anything to go by, this should be an incredibly entertaining and fun match that has the potential to steal the show and given that both men are undergoing a great run of form either man could walk away champion to face Sami Zayn on Sunday.
Another major aspect from tonight's show is the fact we will get to witness an Intercontinental Championship match and the next step the feud between The Miz and Dolph Ziggler.
Intercontinental Championship Match
Tonight marks the ladies last chance to start working together ahead of the crucial match this weekend, but it doesn't help when the turmoil comes from the team captain Nikki Bella and one of her teammates Carmella, perhaps the coach Natalya will bring them together.
Whilst the male team appears (so far) to be on the same page in taking down Team Raw this Sunday, the same can't be said for the female group, with tension high in the air and fighting taking place within the group.
Dissension in the women's ranks
Either way, just having Edge back in a WWE ring will be a special moment for fans and is certainly a must-see segment of the show, and after all, Cutting Edge doesn't usually end peacefully.
After the events that transpired on Raw last night with the SmackDown team showing up and ultimately getting beaten up, how will the blue team be reacting and is there a chance that Team Raw will show up to continue their brawls?
That makes it a jam-packed episode of the talk show which will feature six guests (including team mascot James Ellsworth) and they will be discussing the upcoming Survivor Series match and with Edge being a former face of the brand, he will no doubt be looking to make the team unite ahead of the match.
One of SmackDown Live's biggest ever stars, Edge, makes his return home on tonight's episode as he hosts a special edition of his guest talk show, Cutting Edge where he has invited all the members of the male SmackDown Survivor Series team as his guests.
Edge returns to SmackDown Live- Hosting the Cutting Edge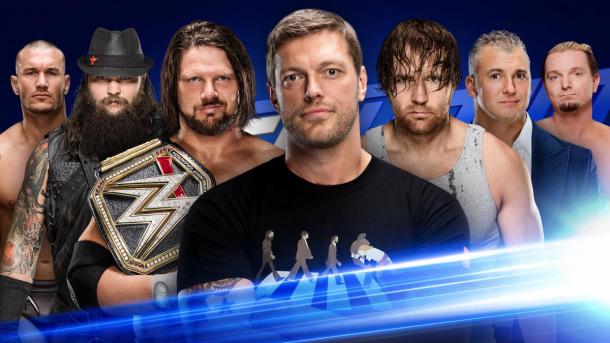 Tonight marks the blue brand's 900th episode and therefore you can expect the WWE to pull out all the stops on this show to celebrate the landmark achievement, including the return of two SmackDown legends.
Welcome, everyone to VAVEL USA's coverage for tonight's historic episode of SmackDown Live. My name is Matthew Wilkinson and I will be providing minute-by-minute updates throughout the show of all the action and results, as well as an in-depth preview, so sit back, relax and enjoy.