Thank you for joining me this evening, I've been Matthew Wilkinson, goodnight.
That's all for Hell in a Cell as Charlotte walks away as Women's Champion in what was a historic evening for wrestling. Great show from top to bottom with all three cell matches delivering in a unique way, compelling must see T.V. now on Raw as the fallout and build to Survivor Series begins.
However, take nothing away from the women, they took their moment and stole the show- incredible simply incredible.
After all the spots and dangerous moments that seemed like a very underwhelming way to end this match.
Winner- Charlotte
Charlotte is now simply tossing Banks into the table and then hits Natural Selection to pick up the win....
Banks grabs the chair and breaks the hold with several shots.
The champion gets another table but Charlotte crushes her with it into the cell, the Queen now sets it back up in the ring as both women trade blows and it's a big boot by Flair who now locks in the Figure Four.
Banks sends Charlotte crashing through a table as she kicks her from the apron, that seemed like an awkward spot that perhaps didn't go quite as planned.
Charlotte responds by planting Banks face first into the stairs.
Double knees in the corner with a chair underneath but again, Charlotte kicks out, another great spot. The crowd is fully involved, both women are giving everything here.
Frog Splash... kick out!
Banks is now hitting suplexes, in honor of her hero- Eddie Guerrero...
Charlotte throws Banks into the cage but the Boss clings on and dives, knee first into Charlotte, great use of the cell which is exactly what these matches are about.
Once again it doesn't last long as Charlotte sends her opponent crashing through the chair, back first.
Banks can only manage brief moments of offense due to the punishment she has already taken but she plants the Queen face first into the steel chair and then beats her head onto the steel repeatedly.
Somehow Banks has found more energy, flying through the ropes to pin Charlotte into the cage, great spot.
Despite the brief moment of energy, a monkey flip into the cell allows Charlotte to take control, Banks sells like a champ.
Banks is now taking it to Charlotte beating the hell out of Charlotte as the challenger tries to escape.
The Boss jumps off the stretcher and this match is officially underway!
The doctors are no on their way down to the ring with a stretcher as Charlotte gets in the ring and demands the title.
Sasha Banks is in a bad way right now as she can't even walk without assistance as Charlotte mocks her.
Both women scale the cell and Charlotte powerbombs her from the structure through the announcers table, wow, what an explosive start to this match.
The Boss then sends her into the crowd and the two women brawl, the bell hasn't even rung yet as both women start this in physical fashion.
Charlotte doesn't wait for the cell to lower and attacks Banks before it even begins.
This has a true big fight feel and really does showcase what women's wrestling is all about. Give them time to wrestler, give them time to talk and create stories and it will deliver, simple.
Unique entrance for Charlotte who is carried in on a throne, the Queen has entered the ring and is set to enter hell.
Here we go- we are now witnessing history as we see the first ever female Hell in a Cell and the first ever Women's main event in a PPV. Special moment.
Smart way to end what was a very entertaining match, this keeps Cesaro and Sheamus together as a team which is important for both of them.
Winners- Cesaro & Sheamus, however New Day defend due to a DQ finish.
Trouble in Paradise and Woods taps out, however, due to the DQ from Kingston being involved New Day defend!
Sheamus once again saves the match, throwing Cesaro in before the 10 countout and he now locks Woods in a Sharpshooter. Big E attempts to stop it but Sheamus uses the trombone to stop him.
Sheamus is now looking high risk as he dives from the top rope to take out all three members of New Day, not often yous ee the big man fly. Great to see them pulling out all the stops to make this match special.
Woods crawls to a cover but the Irishman saves it before taking out Big E and Woods.
Big E breaks it up hitting a Belly to Belly into the ropes and New Day look for Midnight Hour, Sheamus breaks it up but then accidentally Brogue Kicks Cesaro.
It's an uppercut party from Cesaro to Woods and now he is going swinging!
Great powerslam by the Celtic Warrior, very impressive. It's great to Sheamus being used again after such poor treatment in recent years he has fantastic talent, really under appreciated.
So far Cesaro and Sheamus are working well together as a team but Big E is finally introduced and the power comes into play straight away as he rags Sheamus around with belly to belly's
The bell has rung and it's time for tag team action as New Day defend. Xavier Woods gets a rare chance to wrestle here too as he teams with Big E.
Up next, New Day put their titles on the line against the odd couple of Cesaro and Sheamus.
I loved the way they did that. We have seen fake injuries be used before but it suits Kendrick's character so well and works with the story they have told. Kendrick is the most evolved character in the division and makes sense to carry it forwards.
Winner- The Brian Kendrick
TJP goes to check on his former mentor but Kendrick hits a headbutt and then locks in Captain's Hook which forces TJP to tap, we have a new champion!
Kendrick landed awkwardly and is playing up the injured knee gimmick, smart work that suits his character as former friend TJP looks concerned.
Captain's Hook is locked in, but TJP reverses and forces the break.
A slow and methodical match so far, not what most were expecting from the cruiserweights, something is still missing from what we experienced during the CWC.
Kendrick has celverly taped TJP's hand to the ropes using his wrist tape which allows him to beat down on the champion. The crowd hs lost all interest here after being worn out from the last match.
Time for cruiserweight action as TJ Perkins defends his title against The Brian Kendrick, this feud has been well built and now it's time for the match which will hopefully deliver.
A very fun match there though, all three players put their bodies on the line and the crowd was fully invested in everything that was happening.
Post match Jericho hits a Codebreaker on Rollins as Kevin Owens retreats up the ramp, the match ends with Jericho having the spotlight.... interesting.
Winner- Kevin Owens
Owens sets up two chairs and powerbombs Seth Rollins through them to defeat Seth Rollins and defend his belt with the help of Chris Jericho.
The champion quickly brings an end to that with a DDT to Rollins on the steel chair.
However, with Rollins down both Jericho and Owens are taking advantage with some nasty chair shots but Rollins fights back and it's now his turn to hit some chair shots.
Now it's Jericho's turn for some punishment as he flies into the cell, but back in the ring it's a Pop-Up Powerbomb.... but Rollins kicks out! Amazing.
Rollins follows it up with a Frog Splash and as he has it won Jericho pulls the referee out of the ring to stop the pinfall.
Y2J eats the mat as he is hit with a Pedigree and Rollins then Powerbombs KO through the tables, huge spot!
Jericho is immediately sent crashing into the cell but Owens takes advantage of the distraction as 'Stupid Idiot' chants ring around the arena.
KO attacks Rollins with a fire extinguisher and then blinds the referee, they are leaving and opening the door and here comes... Chris Jericho who locks himself in with them.
Owens sets the table from the ring apron to the cell with the previous table underneath it, however, that won't be used yet as Rollins takes out KO spine first on the apron, that's the hardest part of the ring did you know?
Huge sequence of moves there kicks from both men ending with a huge clothesline from KO, great work here by both men as Owens now introduces another table.
Another great spot by KO who hits the cannonball with Rollins propped against the steel cell, great move.
Wow, KO launches Rollins through the ropes, head first into the cell.
The table has been teased and not used again, will it be saved for the main event? Perhaps a major Charlotte moonsault spot?
Owens begins to use the steel cage structure after several attacks to the back and sends him face first into the cell.
Rollins brings out the table early on, it's set up outside the ring...
Here we go for the night's second main event and Rollins is rolling so far (and also not selling his 'back injury').
Now with the focus on this match, which should also be excellent, the fact that Chris Jericho is heavily involved in the intro to the match shows how big of a role he has played, will we see him tonight? Or perhaps Triple H will return again.
Up next is the Universal Championship match and another Hell in a Cell match, this also means the women will close the show which is great news.
Winner- Gallows & Anderson
Enzo became too cocky with his running man after all of Big Cass' great work and G&A hit the Magic Killer to pick up an important victory for the team.
Both big men now enter the match and it's Big Cass who wins that battle taking control of the match on his own.
Great start from Enzo and Cass as the Smacktalker Skywalker is sent flying around but some great double team work gives Gallows the chance to take control.
Brilliant promo from Big Cass and Enzo as usual, the crowd are well and truly awake now... here comes the Club.
Now it's time for our first of two tag team matches as Enzo Amore and Big Cass come out to a thunderous reaction.
Jericho wants to be co-captain with Kevin Owens for the Raw team at Survivor Series, Foley says Jericho should worry if his best friend can make it out of the cell.
Chris Jericho interrupts Stephanie McMahon and Mick Foley as they ramble about Survivor Series. Foley is told he needs to watch,... IT. Also, nice shout to Matt Hardy there from Jericho by calling him 'Senior foley'.
Winner- Bayley
The popular star goes to the top rope to get some offense in then hits Bayley to Belly and just like that it is over, hopefully bringing an end to this feud that just hasn't worked.
Bayley begins to mount a fight back as she tries to get back into the match but Brooke maintains control. The crowd has very little interest in this one at the moment, something you don't often say for Bayley matches.
It has been a rather sloppy start here with Brooke focusing on the injured and taped shoulder of Bayley's.
Bayley's here to a great ovation, as usual, she faces Dana Brooke next. Despite this poor feud, there is no doubt the crowd loves the former NXT Women's Champion.
Kevin Owens claims the beating he is going to give Rollins will make what Reigns and Rusev did look like a cake walk, fun promo from the current Universal Champion. Will he walk out with the belt tonight? Let me know on Twitter- @MC_Wilkinson1
Why is Cole sitting with his script in his hand whilst being on camera? Really.....
Fun opening match by both men that should bring an ending to this feud. It was always going to be physical and they certainly delivered, the use of weapons added something to the match but there wasn't enough use of the actual cell itself, hopefully, we get more of that later.
Winner- Roman Reigns
Spear! Off the steps and that's enough, Roman Reigns defends the United States Championship.
Still, Reigns finds something within himself to pick up Rusev and hit him with a Samoan Drop onto the steel.
Rusev locks the Accolade in on the stairs with the steel chair inside Reigns' mouth, that looks fantastic, great spot.
The pace is really picking up here...
After several shots from the chain Reigns still has plenty in the tank to fight back but once again Rusev uses the stairs to his advantage, followed by a massive Superkick, however, Reigns kicks out (of course).
The Accolade doesn't do the trick so Rusev then picks out a chain! Please don't say this is a foreshadowing for a strap match (I hate them)
Reigns then goes crashing into the stairs head first, great awareness by Rusev but it isn't enough to get the victory.
But Rusev kicks out... the match goes on. Both men were trading huge blows until Reigns hit the fateful shot but it isn't enough.
Superman Punch!
Smart work from Rusev, he has tied Reigns up with the ropes and is now attacking his ribs with the kendo stick, with his padded chest piece does that really have an effect, though?
Now Rusev picks up a kendo stick but Reigns hits him with the Drive By before taking the stick and introducing it to Rusev's back and chest with some huge shots, they looked great.
Whilst it is great they are using weapons and showing they hate each other, do they remember they are inside a weapon? It's a Hell in a Cell match, use the stipulation!
Rusev now introduces the steel stairs which has left Reigns reeling.
Lots of people on Twitter seem to be disgruntled about the Pink rope, not the charity or what it stands for, but the rope itself and the colour. Is it really that big of a deal? Let us know your thoughts and interact with us either at - @Vavel_Wrestling or @MC_Wilkinson1
The challenger has been cut open on his arm after his collision with the steel but Rusev is still fighting on!
Reigns looks to introduce a table but Rusev saves himself and crushes his opponent onto the steel.
Rusev is introduced to the steel as Reigns charges into him, sending the Bulgarian Brute from the ring apron into the structure. The champion follows it up by tossing Rusev around into the steel as he takes charge of the match.
As predicted, we kick things off in physical fashion with both men trading huge blows early on.
Here we go!
We are kicking things off with our first Hell in a Cell match as Rusev takes on Roman Reigns for the U.S. Championship, this should be a physical battle and with three cell matches it makes sense to open with one and this was the right choice.
The final package on the Pre-Show is all about the Women's Championship match, could that mean it will close the show? Let's hope so, frustrating that it is being billed as 'three main events' if that is the case, though, give the women the full spotlight.
After a fun opening Pre-Show match it is almost time for the main card, hopefully, the quality of the wrestling continues as the opening match was very entertaining, great work by all six guys involved.
Overall the night has plenty of potential, whilst three Hell in a Cell's has a real chance of overkill the talent involved are smart enough to make each one stand out and if the undercard can deliver then Raw could put on an impressive PPV.
Prediction- Sasha Banks
There have been major rumors of a huge spot that is reportedly being considered for this match as well as the potential for the blood being involved to really make this standout and that it something that would be unique to see. Even though this is the match that I am most excited for, the outcome is easy to predict as it is time to have a long Sasha Banks run just like Charlotte had, therefore the Boss should escape hell as a champion.
History is being made regardless with the first ever women's Hell in a Cell match, but the feud between these women deserves to be a show closer and the talent they both have is undeniable and they will be out to steal the show.
This is where the night could be changed from just an ordinary PPV to a historic event that will go down in wrestling history, whether or not the women get to main event the show
Women's Championship Hell in a Cell match- Sasha Banks (c) - Charlotte
Prediction- Kevin Owens
Because of that, it is expected that Y2J will (and should) play a major role in the outcome of this match. With Triple H seemingly the next logical step for Rollins it would not be a surprise for this match to end with a Codebreaker and a face turn for Jericho as he places his 'best friend' on the list and stakes his claim for a future title shot.
Another issue of this match is the looming shadow of Chris Jericho. The WWE veteran has stolen the spotlight due to his fantastic performances as of late and the fact his 'list' has become more prestigious than the actual belt shows that not enough attention has been put on the two men involved.
In another of the night's Hell in a Cell bouts, Kevin Owens will put his Universal Championship on the line against Seth Rollins in a match that is undeserving of the stipulation it has been given, one of the problem's with gimmick PPVs.
WWE Universal Championship Hell in a Cell match- Kevin Owens (c) - Seth Rollins
Prediction- The Brian Kendrick
TJP's title run has so far not been as impressive as most had hoped and his forced gaming lines on TV haven't helped him and with the popularity of Brian Kendrick amongst fans it wouldn't be a surprise to see a title change here as it could be exactly what the division needs.
Despite all of the cruiserweight divisions early teething problems one of the highlights has been the feud between TJ Perkins and The Brian Kendrick which just goes to show that if they are given storylines the result can be incredibly positive.
Cruiserweight Championship match-- TJ Perkins (c) - The Brian Kendrick
Prediction- Roman Reigns
It has also been very oddly booked with Reigns acting like a heel with the majority of his actions, both verbally and physically which hasn't helped his status with the crowd but it is sure to be a hard-hitting and physical match up from the first bell to the last.
Despite WWE billing this PPV as a night with three main events it can be agreed that this one certainly won't be closing the show and even though the feud is worthy of a cell match they have faced each other that many times in recent memory that it seems almost impossible for them to show anything new here.
The first of three Hell in a Cell matches will see Roman Reigns defend his United States Championship against his long-term rival in what will likely be the final blow off between the pair.
United States Championship Hell in a Cell match- Roman Reigns (c) - Rusev
Prediction- New Day
The teaming of enemies has been done plenty of times before but so far this has been very entertaining and breaking it up now would be a shame as neither man was really standing out as singles stars but it after the run New Day have had they have earned the right to break the record and a controversial finish could be a way around the situation of a tag team break up.
On one hand, New Day defending their belts seems like a simple decision as they are so close to breaking Demolition's record of being the longest running champions, however on the other hand if Sheamus and Cesaro don't win then that would surely bring an end to the team already as they are only together to become champions.
One of the night's championship matches is also one of the most intriguing as New Day defend their belts against the odd team of Sheamus and Cesaro, two men who have been forced into this match despite their hatred for each other.
Tag Team Championship Match- New Day (c) - Sheamus and Cesaro
Prediction- Bayley
However, Dana Brooke has struggled since being promoted to the main roster, her matches have been sloppy and fans are not on board with her character which should provide a simple outcome in what will hopefully be a quick and painless match.
With that being said, people who are worrying about the hugsters future need to relax. Now is not the time for a Bayley title run and her time will come (ideally at WrestleMania) and therefore she needs to be used during that wait, which is what the company is doing.
This feud has not interested anybody so far, Bayley has gone from being the most popular female star in the company to receiving 'boring' chants on the past episode of Raw which shows just how poor this has been so far.
Bayley - Dana Brooke
Prediction- Gallows & Anderson
The team that loses this match is going to have a hard time in being built up again but with Enzo and Cass being able to get the crowd on their side simply by opening their mouths this should be the time Gallows and Anderson are finally given a big victory to allow fans to believe in what they say for future storylines.
Both of these teams are in a desperate need for a big victory after struggling over the past few months and with the big Survivor Series tag team match coming up these teams could easily find themselves as partners at the next PPV meaning this feud might be put on the back burner after this match.
At one point in time the thought of this match taking place would have created mass buzz and excitement, yet here we are at Hell in a Cell and it has an incredibly underwhelming feel about it which is a huge shame considering the players involved.
Luke Gallows & Karl Anderson - Enzo Amore & Big Cass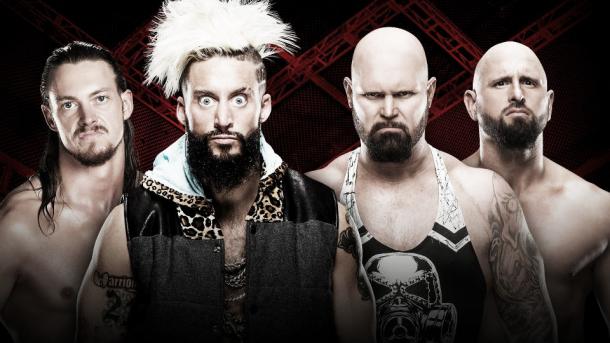 Prediction- Alexander, Dorado & Sin Cara
With it being a pre-show match the WWE tends to have a babyface victory in order to have the crowd on board for the start of the show and therefore it is likely we will see them get the win here, probably with Alexander picking up the pinfall.
Both Cedric Alexander and Tony Nese have been incredibly impressive on the main roster and despite not having any storylines built around them they are two very much at the front of the line for a future title shot and will likely be the central focus of this match.
Despite the fact that this is just a throwaway match it should be an entertaining one as everyone involved is incredibly talented and they are likely to be given at least 10 minutes to get the live crowd involved.
Everyone's initial fears for the cruiserweight division are fully highlighted with this match. Six incredibly talented wrestlers, all who have great backstories that you would only be aware of if you watched the CWC in great detail, whereas on the main roster they are simply just thrown out to wrestle without storylines or characters and fans haven't bought into it.
Pre-Show: Cedric Alexander, Sin Cara & Lince Dorado - Drew Gulak, Tony Nese & Ariya Daivari
Tonight we have three matches inside Hell in a Cell which for most fans, is overkill, however there is strong potential with this card that has some strong matches from top to bottom and with this PPV the company has a chance to make history by having a women's match main event the show, something that should happen here.
Welcome, everyone to VAVEL USA's coverage for Monday Night Raw's second brand-exclusive PPV, Hell in a Cell. My name is Matthew Wilkinson and I will be providing minute-by-minute updates throughout the show of all the action and results, as well as an in-depth preview, so sit back, relax and enjoy.