Marin Cilic earned his first win at the ATP World Tour Finals on his sixth attempt, coming back from a set down to defeat Kei Nishikori 3-6, 6-2, 6-3. Nishikori has still earned a spot in the semifinals as Andy Murray's match earlier in the day decided the John McEnroe group standings, and Cilic will now prepare for next week's Davis Cup final in Zagreb.
Nishikori was extremely impressive from the outset in the opener, dominating from the baseline to earn a double break and seal a one-set lead with ease. After securing the first set, Nishikori's level took a nose dive. The world number five was making far too many unforced errors as Cilic began to dominate from the baseline, breaking twice on his way to leveling the match. Cilic continued battling into the decider as he again broke Nishikori's serve twice to earn his first win at the O2 Arena.
Baseline battles
Cilic struggled in the opening game as Nishikori got off to a good start, taking a 0-30 lead on return. The Croat reeled off the next three points and although being pushed to deuce, came away with the hold as big first serves got him out of danger. Nishikori came through a hold of his own with great court positioning and dictating play. Cilic again went 0-30 down on serve and this time wasn't able to get out of trouble. He found a couple of big first serves to level them up but Nishikori earned himself a break point and an error from Cilic handed the world number five an early break.
Nishikori's great groundstrokes took him through another easy hold of serve and he again went on the attack on return, ripping huge forehands to take a lead. Cilic came through a much-needed hold with a second serve ace to stay in touch at 3-2.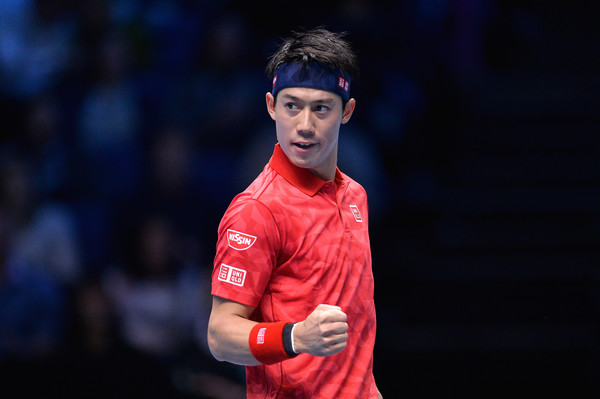 A scorching backhand crosscourt winner got Cilic off to a lead on the return but an error quickly brought them back level. A great return from the Croat forced an error from Nishikori and a good serve took them to 30-30. The world number five quickly turned defense into offense to earn himself a game point and a passing shot from Cilic left them at deuce. More good serving under pressure got Nishikori through the hold to take a 4-2 lead. Cilic was made to work hard again on serve but two booming first serves followed by impressive forehand winners gave him another well-fought hold.
Nishikori continued to dominate from the baseline, working Cilic around the court to claim a love hold and a 5-3 lead. The world number five continued to impress on the return as he hit some stunning shots from the baseline on his way to a 0-40 lead. He missed out on the first set point but a great return forced an error from the Cilic and gave Nishikori the first set 6-3.
Momentum switch
Nishikori was made to work hard for his opening service hold but came through to take the lead. Cilic had an easier time on serve and came away with the hold to stop Nishikori's run at three games in a row. Cilic was firing from the baseline and a loose game from the world number three handed his opponent an early break. The Croat then looked to be racing to love hold but a string of loose shots left them tied up at deuce. Two huge serves from Cilic brought him through the crucial hold.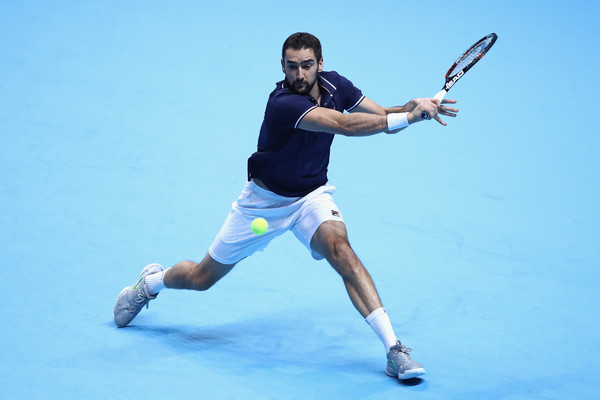 A nightmare service game from Nishikori gave Cilic a look at three break points and another error from handed Cilic the double break for a 4-1 lead without having to do much work for it. Cilic cemented his lead with an easy love hold. A perfectly executed defensive lob from Cilic gave him another lead on return but Nishikori came up with some big serves to get his second hold of the set. Nishikori then took a lead on the return as Cilic was serving for the set but big serving from the Croat brought up a set point. It was quickly lost with an error but more massive serves got Cilic through the game and leveled the match as he took the set 6-2.
First win at the O2
A scorching backhand down the line got Nishikori off to a better start in the decider as he held his nerve to hold and take a lead. Cilic came through an easy hold to level them up early can keep hope of a first win at the O2 Arena alive. A shanked forehand from the Croat gave Nishikori a lead on serve but an incredible volley from Cilic leveled them at 15-15. Another outstanding volley at the end of a long rally gave Cilic the lead on the return as he looked for an early break but Nishikori brought out some great serves to hold for 2-1.
A deep return from Nishikori forced an error from Cilic and a backhand battle went the way of the world number five to take him to a 15-30. More massive serving gave Cilic the well-fought hold. A loose backhand from Nishikori gave Cilic a break point and the Croat took full advantage, crunching a huge backhand down the line return winner to seal the early break and a 3-2 lead.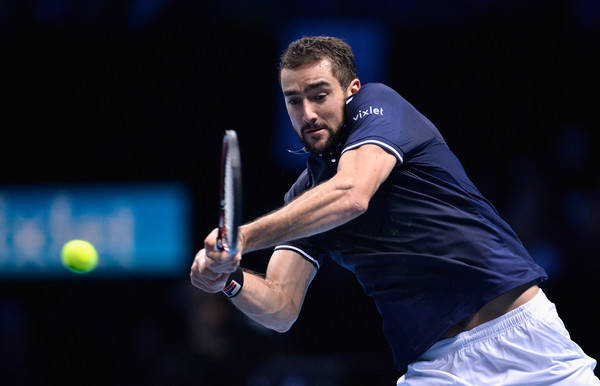 The world number seven consolidated his lead with a hold to love and Nishikori came through a battling hold of his own as he tried to make his way back into the set. There were opportunities for the world number five on return in the next game as he fought his way to 30-30 but the Croat's continued massive serving under pressure got him through the hold of serve and forced Nishikori to serve to stay in the set.
Cilic pulled off another amazing lob to force Nishikori back and volleyed away a tweener to take the lead on return. He then dominated from the baseline to earn himself three match points. Nishikori managed to save the first but an error on the second handed Cilic the decider 6-3 and secured the Croat's first win at the World Tour Finals.