After a fantastic first half of the 2016 season, Canada's Milos Raonic comes stumbling into London for his second appearance at the ATP World Tour Finals. Ever since reaching the Wimbledon final, poor form and injury have slowed the Canadian's momentum and whether or not he will be able to compete for the full week in London is still a question mark, although it seems to be sure that he will at least play his first match. Can Raonic finish turn things around for a strong finish in London?
Notable Results to Date
Through the first seven months of the season, Raonic was one of the hottest players on tour. He opened the year by defeating Roger Federer for the Brisbane title, his lone title of 2016, and backed it up with a run to the Australian Open semifinals. Between the start of the season and the US Open, Raonic would only miss the quarterfinals of two events. He reached the final of Indian Wells and the Queen's Club before powering into his first major final at Wimbledon.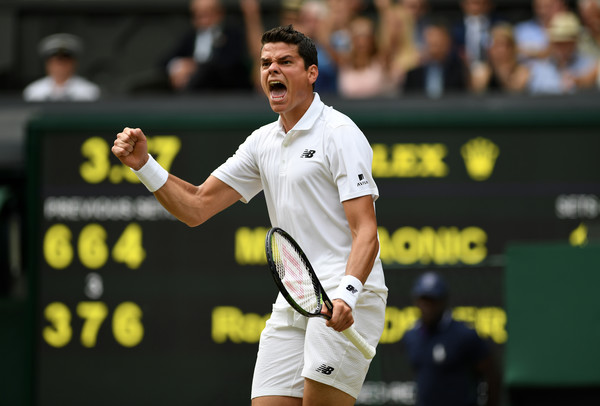 But things have gone downhill since. After some solid showings at the summer Masters 1000 events, Raonic has struggled. A second round loss at the US Open seemed to kill his momentum and started a year-end run where he failed to reach the quarterfinals of four of his last six events, including two first-round losses in St. Petersburg (where he was the defending champion) and Basel. He did reach two semifinals, in Beijing and last week in Paris, but both times he was forced to withdraw with injuries. The injury in Paris was a quadricep tear that has raised questions about his status in London.
Best Hard Court Results Leading into World Tour Finals
Prior to the US Open, Raonic had reached the quarterfinals or better in all of his hard court events. Even now, of the 12 hard court events he's played this season, he's reached at least the semifinals of six of them and quarterfinals of eight. But his very best results on hard courts came at the start of the year, when he reached the semifinals of his first three hard court events, including two finals and winning one title. He has reached the semifinals of two of the last three hard court Masters 1000 events, falling to Andy Murray both times (although in Paris it was a walkover).
Best Results at World Tour Finals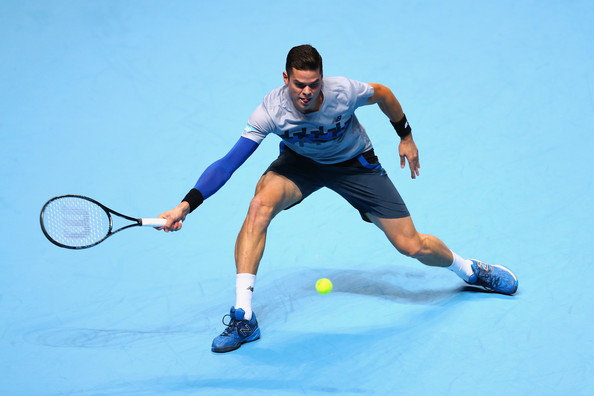 Raonic has only qualified once before for the ATP World Tour Finals and it did not go well. The Canadian snuck in in 2014 and was beaten soundly in both his round robin matches, although in his defence, those losses were to Federer and Murray. He was forced to withdraw from the tournament with a leg injury before he could contest his third round robin match. He has never won a set at the O2.
How Raonic's Game Translates to the Surface
The hard court in the O2 arena is an indoor surface with a low bounce that can play surprisingly slow for an indoor hard court. Raonic is at his best on the fastest of surfaces, hence his grass success this year, so the slowness of London may not be great for him. However, the surface in the O2 is only really slow in comparison with indoor surfaces like Paris or Basel which play lightning fast, so the court in London will still play quickly which should work to Raonic's advantage.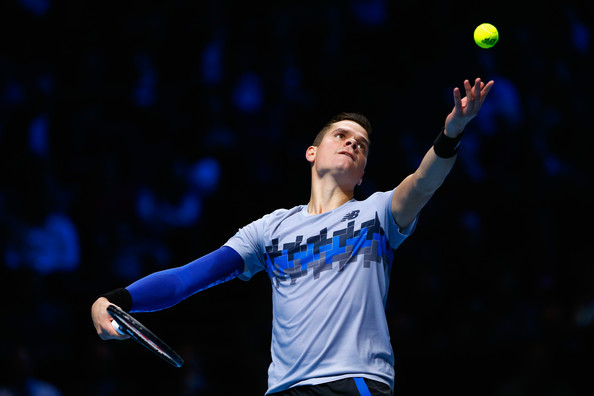 Raonic generally likes indoor surfaces, having reached eight finals indoors in his career (almost half of his career finals). He is 5-3 in indoors finals. He has six wins against top ten opponents in his career on indoor courts. Even though the court may not be as fast as he might like, these are still good conditions for him. That's usually because indoor courts are faster and there are no external conditions that can slow the ball down. This makes his gigantic serve even more deadly, along with his powerful forehand and efficient net game.
And actually, Raonic's best hard court results this year came on slow hard courts in Australia and Indian Wells, so if he is able to play near the level he did in the first few months of the season, combined with the indoor conditions that he likes so much, Raonic could do some serious damage in the O2.
The real question mark for Raonic is his health. If his leg is healed, he has a great opportunity to make a charge in London and maybe even reach the semifinals (which might be enough to vault him to number three in the rankings). He'll need to find his form again, but he has a chance in London to put the icing on the cake that has been his 2016 season.