Young Austrian star Dominic Thiem secured his place at the ATP World Tour Finals for the first time after an impressive season. Thiem's place was secured as the remaining London hopefuls were eliminated from the BNP Paribas Masters, both Tomas Berdych and Jo-Wilfried Tsonga missing out on a place at the O2 Arena. The Austrian takes up the eighth and final spot in the lineup alongside Novak Djokovic, Andy Murray, Stan Wawrinka, Milos Raonic, Kei Nishikori, Gael Monfils and Marin Cilic.
First appearance
The 23-year-old is the youngest player in this year's elite eight and will be in for a tough test as he has losing head-to-head records against five of the seven players in the lineup. Thiem has wins over Wawrinka, Monfils and Cilic but has never beat Djokovic, Murray, Raonic or Nishikori. The Austrian has proved this year though that he is capable of taking down the giants of the game, with impressive wins over Rafael Nadal and Roger Federer. The opportunity to finish his season on a high on one of the biggest stages in the sport after a couple of disappointing losses should motivate Thiem, as the Austrian is definitely capable of causing an upset.
Packed season of mixed fortunes
Thiem goes into the tour finals having already played twenty-seven grueling weeks this year. The Austrian made a slow start to the season but hit his peak at the beginning of the South American clay court swing, taking out Rafael Nadal on his way to the title in Buenos Aires. Another title came a couple of weeks later on the hard courts in Acapulco. A first Grand Slam semifinal came for Thiem at Roland Garros where he lost out to eventual champion Novak Djokovic. Thiem followed his semifinal appearance with another title on another surface, on the grass on Stuttgart, taking out Roger Federer on the way.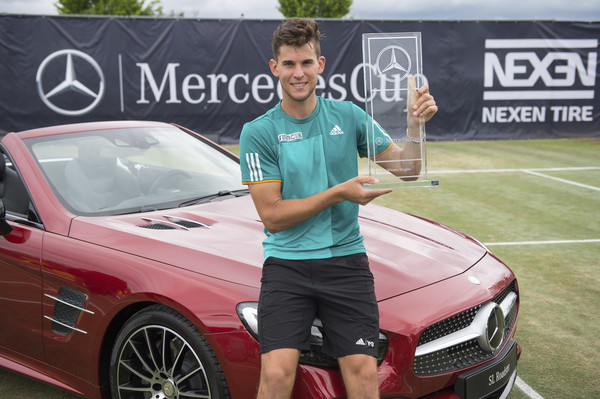 The packed schedule started to catch up to Thiem at Wimbledon, where he crashed out in the second round. From there have been mixed results for Thiem, after making the quarterfinals at the Western and Southern Open, he was forced to retire in the fourth round of the US Open with an injury. He recovered to make the final at the Moselle Open, but since has only won two matches. Thiem's schedule looked to be getting the better of him in the last couple of months so his form going into the World Tour Finals is poor, but he has bounced back plenty of times this season already so a good showing at the year end championships is not off the cards.