Simona Halep secured the first win at this year's WTA Finals tournament after battling past debutant Madison Keys. It's the third year in a row that Simona manages not only to qualify for Singapore but also win her first round robin match in a straightforward manner. In 2014 she beat Eugenie Bouchard 6-2, 6-3, in 2015 it was the US Open champion, Flavia Pennetta, 6-0, 6-3 and now it was Keys' turn. Halep was encouraged throughout the entire match by many fans whom she thanked after the match for always getting behind her and supporting her since her maiden appearance in 2014 up until this year.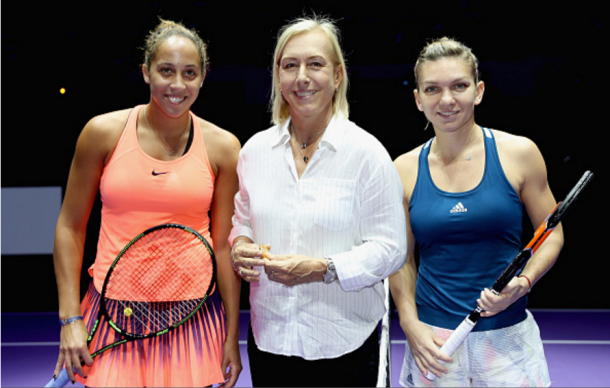 Halep has a fulminant start of the match
It has been often said that Halep has Keys' number, that she simply knows what to do and not to do when playing the young American promise and today was yet again the case. This being the first time appearance for Madison in Singapore we were able to see that right from the beginning. Halep, although she is just 25 years old, already has a huge amount of experience over Keys. She knew how to put her cards on the table and especially when to do so. Halep broke first in the third game and then went on to win the next three games as well. At 1-5 Keys found herself in the situation of having to serve to stay in the set. It was not quite the situation Keys wanted to be in. Despite hitting hard, the American failed to hit through Halep consistently well. At that point, she already had made 16 unforced errors compared to only 3 committed by Halep. Also, she wasn't winning enough points on her first serve, Halep had won 90% points on her first serve and on the other side Keys only won 50%.
In just 26 minutes Simona was serving for the set and she seemed to be extremely sure of her whole game. She was defending marvelously, she was moving so well, often forcing Keys to hit harder and harder. Although Halep is not feeling extremely comfortable when playing against hard-hitting players, for what it's worth she tends to lose such matches, but against Keys the roles change. Halep is the one putting pressure on the American, and until now Keys simply breaks. Her game breaks and her astonishing forehand fails her in big moments.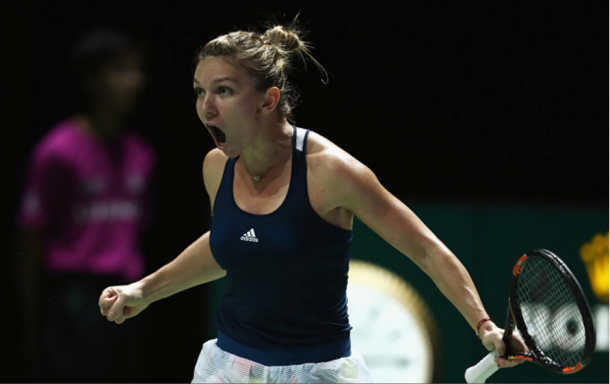 Keys fights back in the second set but is not enough
After losing so easily in the first set, Madison Keys started the second set being more aggressive. She wanted to show Halep that she is there to fight until the end and not let the Romanian cruise through the match. After saving two break points in her first service game, Keys won a really tough rally to put herself in front at the beginning of the second set. On Halep's serve, we saw a little change in the attitude of the young American as she got herself a first break point. In what eventually was a big service hold for the fan favorite Halep, Keys also managed to hold easily afterward. The Romanian sensed the danger and immediately called her coach, Darren Cahill, who told her that there's no need to change the strategy. He wanted to point out to Halep that against Keys there will always be ups and downs during the match and all she needs to do is to concentrate on the positive aspects of her game.
She then went on to hold her serve with a brilliant cross-court backhand drop shot which, then pumped her up to break Keys for the first time in the second set. Down a break at 2-3 Keys knew she needs help, so she also called her coach. Thomas Högstedt pointed out the fact that she needs to be more aggressive and to show Halep that she's going to break her. And so she did in the next game.
After what it might have been the best game Keys played in the entire match, Halep responded with an amazing tennis. Having two break points but being on the defense, the Romanian took Keys' smash shot and hit a brilliant backhand passing shot down the line. When serving for the match Halep procured herself two easy match points, but Keys saved them both. However, the third time was the charm for Halep as she stayed focused and took advantage of yet another forehand error from Keys to close out the match.
Thus, Simona Halep makes a perfect debut and puts herself in front of an extremely tough red group. An important victory which also puts her in a good position against her next two opponents: Angelique Kerber and Dominika Cibulkova.