Dominika Cibulkova has managed to move past her not-so-great 2015 season when she was forced to recover from a heel surgery. She had to miss five months just to be able to come back on the tennis court and adjust her game to the new conditions. It seems that everything paid off extremely well for the well-experienced Slovak who has now qualified for her first WTA Finals tournament. She is now currently number eight in the world and the victory against Viktorija Golubic in the final of the Generali Ladies Linz confirmed Cibulkova as the next qualifier for the season-ending show tournament, joining Angelique Kerber, Simona Halep, Agnieszka Radwanska, Karolina Pliskova, Garbiñe Muguruza and Madison Keys in the singles field, and later Svetlana Kuznetsova after the Russian won the Moscow title.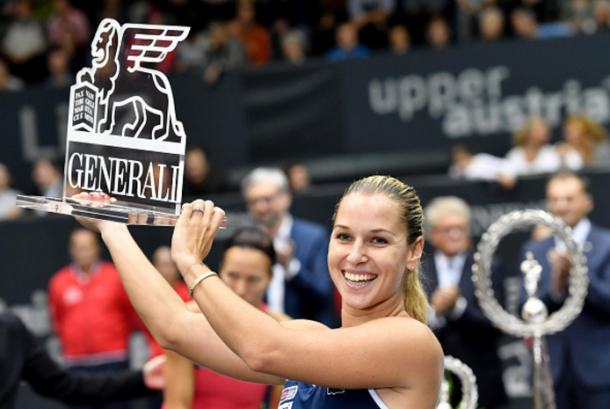 Notable results to date
This season might be one of the best for Cibulkova as she won three titles. The most recent one was in Linz where she beat Golubic 6-3, 7-5, the biggest one on grass, where she won Eastbourne against Karolina Pliskova 7-5, 6-3 and also won Katowice by defeating Camila Giorgi 6-4, 6-0. Thus, she has won two hard indoor tournaments this season, which might have a lot of saying in how she will perform at the WTA Finals. Not only has she managed to win three titles but she also reached another three finals. In Madrid where she lost to Simona Halep, in Acapulco to Sloane Stephens and in Wuhan where she surrendered to the lights-out tennis played by Petra Kvitova. Regarding her performance at Grand Slams, she started on the wrong foot at the Australian Open where she lost in the first round against Kristina Mladenovic, then lost in the third round at the French Open to Carla Suarez Navarro, but she played much better at Wimbledon where she beat Mirjana Lucic-Baroni, Daria Gavrilova, Eugenie Bouchard, and Agnieszka Radwanska before falling in the quarterfinals to Elena Vesnina.
All these great results helped her set a career-high ranking of number eight in the world. "I can't describe with words what qualifying for the WTA Finals Singapore means to me," said Cibulkova. "After such a tough year last year, this year has been amazing - so reaching the WTA Finals is a dream come true. It was my goal to be a consistently great player and I have achieved that this year. I want to enjoy it, play good tennis and end the year the best way I can."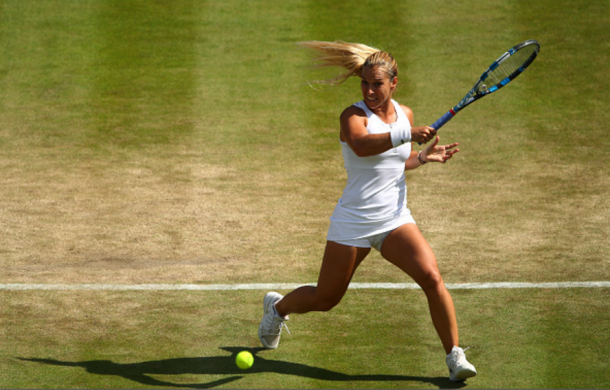 Cibulkova's debut at the WTA Finals
Dominika Cibulkova, alongside Madison Keys, is making her debut at the WTA Finals, but even so, she seems to have more to take from this tournament. The 27-year-old Slovak has gained a lot of experience throughout her career and such a moment shouldn't be one that will leave her empty-handed. This season, her fighting spirit has helped her win a lot of matches, has dragged her opponents into her own combat zone and showed everyone that the height of a player isn't that important after all. Cibulkova is not a player to lose a match by not trying until the end, she always gives everything she's got. If she were to lose she wants to do it on her terms. Those are the features most likely to bother her group opponents as well. Alongside Cibulkova, two of her next opponents, Kerber and Halep, have similar game styles. Run and fight. Run and run again. Being able to do that, Dominika also has a good chance against the big-hitting Madison Keys.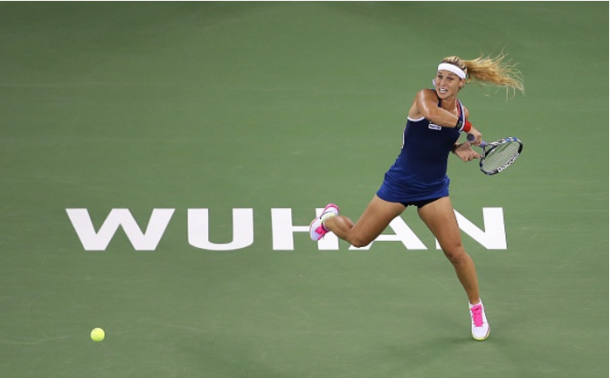 Cibulkova's record against the Elite Eight
Taking an individual breakdown on the head-to-head tie against her group opponents we'll see that Cibulkova has a slight positive record. Cibulkova leads Simona Halep 3-2. Dominika got the first win in their first meeting in 2011 but in 2012 Simona came out on top in their meeting in Brussels. In 2013, Halep fell to Cibulkova at Indian Wells, and in 2014 Cibulkova played an amazing match to reach the quarterfinals at the Australian Open, shutting out the Romanian 6-3, 6-0. Nevertheless, Cibulkova couldn't do much in their last meeting, in the Madrid Open final. With one of the best performance of the season, Halep beat Cibulkova 6-2, 6-4.
Against Madison Keys, Cibulkova hasn't won any match and lost all three meetings. Yet, they haven't met at all this season and that could make a big difference in their match, given the Slovak's recent form. Their last encounter dates back to the beginning of last year where, in Brisbane, Keys beat Cibulkova 7-5, 6-2.
An even more interesting rivalry is the one between her and Angelique Kerber. They both split their eight matches and are now tied at four-all. They have also not met this season so that will add a pinch of mystery when they will meet in their robin round match. An interesting fact is that Cibulkova won their first four meetings and since 2014 Kerber won the last four. It is clear the fact that Kerber has the upper hand here, and not only does the German has had unbelievable year, she also seems to be in good form for the tournament, while also having the mental advantage on her opponents, including Cibulkova.