It's often said that great defense doesn't come from making big tackles, it comes from controlling the run of play so that things become predictable, and big tackles never even have to be made.
In a clash between the top two NWSL defenses on Saturday, this adage proved to be prophetic, as the Portland Thorns and FC Kansas City battled to a scoreless 0-0 draw.
Defense against Defense
Going into the match, both teams have been struggling to create danger in front of their opponents' goals, with the Thorns managing five goals in the first four games of the season, and FCKC managing only three. However, both teams have been excelling in their own defensive third, with Portland allowing 22 goals in their last 24 games, and FC Kansas City not far behind with 23.
Even before the match, it was unlikely the scoring woes for both teams would be much changed. Thorns midfielders Dagny Brinjarsdottir and Tobin Heath are still out with lingering injuries, and the FCKC lineup continued to deal with the season ending injury of Amy Rodriguez (not to mention Shea Groom attempting to play another 90 minutes on a newly bruised rib).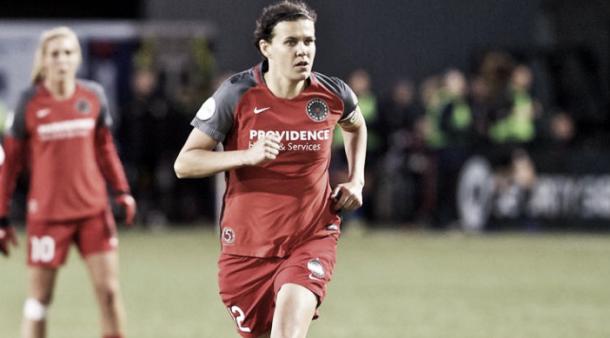 Feeling each other out
The game started out slowly, with both teams refusing to give up much space in the midfield. There was a good amount of connectivity in the middle for both squads, but both teams really struggled to turn that activity into a dangerous play in front of goal. FCKC found the most success utilizing their strong center back pairing of Becky Sauerbrunn and Yael Averbuch to possess out of the back, and then send dangerous balls over the top in search of runs from forward Sydney Leroux.
For their part, Portland tried to control the midfield with a fluid attack, and send in service for Christine Sinclair and Nadia Nadim. However, for both squads these plans of attack didn't quite live up to the quality of the defenses they were attacking. Leroux really didn't have enough support up top to be truly effective against the organized Portland defense, and Nadim in particular had trouble capitalizing on the opportunities that the midfield (particularly Lindsey Horan and Amandine Henry, who both had solid games) tried to provide.
Apart from some tense moments created by touchy goalkeeping – Thorns keeper Adriana Franch really does struggle sometimes with the ball at her feet – the first half ended without much fanfare.
Box to Box, but no further
After settling in, the second half of the match did open up a little bit, with the disciplined defenses of both squads being stretched thinner than in the first 45 minutes.
This is where the class of the FCKC center backs, particularly USWNT captain Sauerbrunn, really showed. As the game went on, the differences in roster depth between the two squads came into play, and Portland began to create more dangerous movement in front of the Kansas City goal. Under this sort of pressure, Sauerbrunn had to come up with some big-time tackles to keep the Thorns out of the back of the net, and she handled it gracefully every time.
Ultimately, both teams did have a few good looks at shots on goal before this match was through, but neither team would walk away from this match feeling like they had been denied something that they deserved. FCKC remains unbeaten by Portland at home, but I'm sure the visiting squad isn't completely unhappy walking away with a point on the road.