In just over a week, United States Women's National Team head coach Jill Ellis will be traveling to Liberia as a Monrovia Football Ambassador. Along with Ellis, U.S. goalkeeper Ashlyn Harris will be attending to contribute to the Monrovia Football Academy (MFA).
Why Ellis and Harris to Liberia?
The U.S. duo will be assisting the MFA in coaching and academic courses. The MFA is the first school in Liberia to combine education with football growth for their students.
Due to the high amount of discrimination of women in Liberia, Ellis will also be speaking at the U.S Embassy events, which primarily focus on leadership and female empowerment.
Ellis' accomplishments lead to Liberia
With having the 2015 FIFA Coach of the Year title, Ellis has come along way from where she has once started. When named the eighth head coach of the USWNT. In May of 2014, the 2015 FIFA Women's World Cup was just around the corner. In coaching the team for just under 13 months, she was able to lead the team to achieve the championship title.
Ellis also has experience with being the assistant coach for the U.S U-16 and the U-21 teams in 2000.
Harris accomplishments
In 2009, Harris graduated from The University of North Carolina at Chapel Hill with a Bachelor of Arts in Communication Studies.
With her first appearance with the USWNT in March of 2013, she has been the backup goalie for Hope Solo. As a developing goal keeper, the best way to grow is by getting experience through games rather than just spending hours of weekly practice to be benched.
In seeking out to gain more experience, Harris traveled to Europe where she played in Germany and Sweden.
She currently plays for NWSL team Orlando Pride, in which she was recently named the 2016 NWSL Goalkeeper of the Year.
In an interview about her professional career as a goalkeeper and about making a difference, Harris stated:
"I want my life to mean something. My job doesn't define me. Soccer isn't who I am, it's what I do. If I am in the spotlight, I want to use it. I want to help people."
Ellis and Harris: the perfect fit
With Ellis' coaching experience and preparing teams to rise to the top, she will leave a great her impact on the MFA. She can help grow the potential in players who want to achieve more, but don't have the right tools or resources.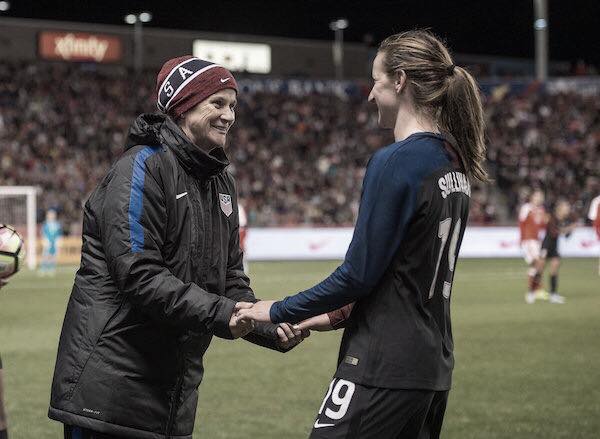 Harris can also be greatly used as she has a passion to be more than just classified as a goalkeeper for the USWNT. In her success with the USWNT, it has allowed Harris to be able to reach out to people and help them in whatever walk of life they are in
Thoughts from Ellis
Ellis with excitement of the opprotunity that awaits them in Liberia:
"I'm thrilled that Ashlyn and I have the opportunity to visit Liberia and support Monrovia Football Academy. They're doing groundbreaking work by giving girls the chance to play football, and we want to help out in whatever way we can. We're also excited to speak on leadership and interact with some of Liberia's most influential public figures. Huge thanks to U.S. Embassy Monrovia and SportsUnited for making this happen!"
The two will be in Libera from November 29 to December 2.