The action of the Westfield W-League has only intensified as the weeks go on. Familiar faces from the NWSL continue to make waves for their teams down under across the board.
NWSL players suffer injuries in week three
Two NWSL players have also suffered injuries after this weekend's matches. Kelsey Wys of the Newcastle Jets and Washington Spirit left the match on crutches after injuring her knee and will have an MRI to determine what's wrong. Canberra United's Jasmyne Spencer, who plays for the Orlando Pride in the NWSL, reportedly suffered an ankle injury and will require scans after being carried from the field in her match against Brisbane Roar.
Newcastle Jets overcome previously undefeated Perth Glory
The Jets, who continued their winning streak after their 4-0 victory last weekend, seemed to have found their stride in the first ten minutes of the game, but the injury of Wys disrupted that and made play disjointed for the rest of the first half. American Jen Hoy was taken down in the box in the second half, and she converted her penalty to put the Jets up 1-0. Despite pushes from each team, the score held and the Perth Glory was handed their first loss of the season.
Sydney FC defeats Melbourne Victory 2-1
Sydney FC opened the scoring early with goals in the 17th and 35th minutes from Alanna Kennedy and Remy Siemsen, respectively. These goals did not come without pushback, though, and Christine Nairn had a few close chances for the Melbournce Victory. In the second half, Natasha Dowie of the Boston Breakers scored to give Melbourne some momentum, but it was not enough, and the Victory left the weekend not victorious.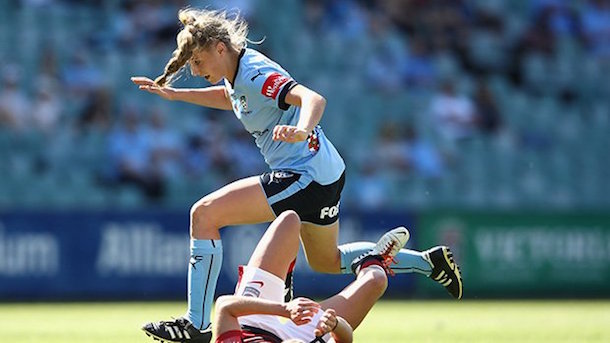 Western Sydney Wanderers find first win against Adelaide United
An uneventful first half was followed by an exciting second period that kept spectators on their toes until the very end. Katie Stengel, another player coming over from the NWSL, scored the Western Sydney Wanderer's first goal, setting the tone for the rest of the match. Adelaide United answered two minutes later with a goal from Adrianna Jones, but it was the goal from American Paige Nielsen in the 85th minute that secured the Wanderers' victory.
Canberra United holds off Brisbane for 1-0 Victory
Despite the injury to American Jasmyne Spencer, her team was able to find victory with a single goal in the 54th minute. The goal came from Ashleigh Sykes, who tapped in a cross from Michelle Heyman from close range. The Brisbane Roar were able to get shots off but was unable to convert any thanks to goalkeeper Trudy Burke, who was dynamic throughout the game. This is Canberra United's first win this season, and it will bring much-needed life to the team. The two-time champions currently sit in sixth place, and their opponent is one place above in fifth.