Earlier today FC Kansas City announced that midfielder Frances Silva is retiring from professional soccer. Silva, 24, has been with the club since 2014. She plans to join Fox Sports as a Social Media Specialist.
Silva a homegrown talent
Frances Silva is one of the many players on FC Kansas City that actually from the Kansas City area. A native of Overland Park, Kansas, the midfielder attended North Valley High School, setting many of the program's records and led her team to the State Championship in 2007, earning 41 goals and 17 assists in her four years as a Mustang.
"I want to thank the FC Kansas City organization for allowing me to live out my lifelong dream of playing professional soccer." -Frances Silva
She would go on to continue her soccer career at West Virginia University, where she started 20 out of 24 matches and earned Big East Rookie-Team honors in 2010. In the following three seasons, the midfielder would earn a total of 87 points. In her senior year she scored 15 goals and tallied 13 assists in a season where Mountaineers won the Big-12 Championship. Silva would also be named Big-12 Player of the Year in the same season.
Great player for FCKC
The Overland Park native was the 19th overall draft for the Blues in the 2014 NWSL College Draft. She started five of the 18 games she played for Kansas City that season, helping her team win the league championship with two goals and one assist. In FC Kansas City's second championship run in 2015, Silva would score three goals throughout the year. This season, she started 10 games, making appearances in all but one for the Blues' 2016 campaign.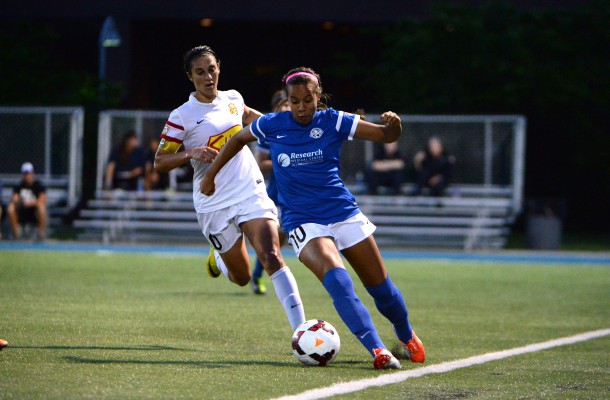 "Getting to play in my hometown and winning two titles for this great city is more than I could have ever hoped for. I want to also thank my teammates and coaching staff for making the experience something I'll always remember," Silva said to the media. "Walking away from the game you love is never easy, but I'm excited for the new challenges that are ahead working for Fox Soccer."
Head coach Vlatko Andonovski said, "She was an important part of this team during our most successful times and helped us to win two NWSL championships...we are happy for her and excited about her new opportunities."
The two-time NWSL Champions finished sixth overall in standings for the 2016 season. They look to return to the playoff race in 2017.