Texas native Melissa Henderson has become a seasoned veteran of the National Women's Soccer League. The Notre Dame alum has just wrapped up her third season with the Houston Dash under coach Randy Waldrum, who coached Henderson for the entirety of her four years with the Fighting Irish. In between the end of the 2016 season and the start of the 2017 season, Henderson found herself playing overseas with Apollon FC in Cyprus for a few weeks as they competed in the 2016 UEFA Women's Champions League.
Not Henderson's first go around overseas
Though this was Henderson's first time playing in Cyrus with Apollon, this is not the first time the Dash have sent her on loan. Two years ago, just as Henderson was wrapping up her first season with the Houston Dash, she was sent on loan to Danish club Fortuna Hjørring in the following offseason. She competed in the 2014 UEFA Women's Champions League with Fortuna, where they made it as far as the round of 16.
When asked about her motivation to go overseas again this offseason Henderson told VAVEL USA, "I think honestly it was just a great opportunity to play in Champions League to get some games in at a competitive level. It was basically just an opportunity to grow as a player and as a person, and I just wanted to jump on it."
In addition to the competitive level and environment, true to Henderson's outgoing and friendly personality, playing overseas helped her branch out and meet new people. "It's something that I wanna not take for granted," she continued when explaining her short stint overseas. "I want to do as much as I can while I can."
Honored to be part of Champions League
This year, the offensive player appeared in two matches for Apollon FC in Champions League play. She started and logged the full 90 minutes both games, the first resulting in a 1-1 draw and the second unfortunately resulting in a 3-2 loss against Slavia Prague W. Despite the unfavorable results, Henderson is extremely grateful for the opportunity to play in such a prestigious tournament.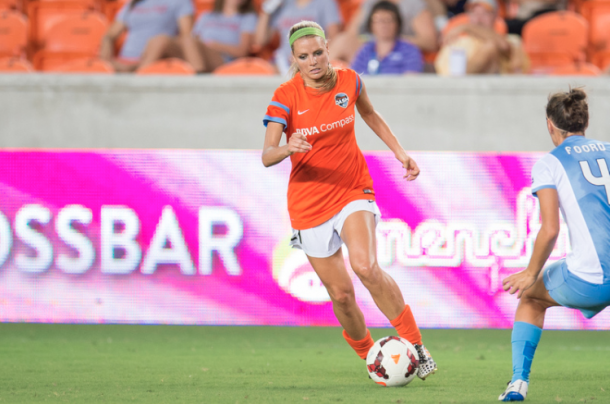 "You grow up and you hear the Champions League song being played when you watch Champions League on Saturday mornings, and to be able to walk out and have that experience is surreal," she told VAVEL USA.
It's been a humbling experience for the Texas native, who understands just how much work her fellow teammates abroad put in for her to have this experience. She's grateful for the opportunity and is aware of just how much other players have done to get their team to the tournament. Henderson explained, "It's hard to fathom being in a position to where you work so hard, and then when it really comes down to it somebody else just is given an opportunity to play above you."
Despite her coming in and finding herself in the starting lineup rather easily, the Texas native's teammates were nothing but "welcoming and grateful for [me] to be there." Not only did she receive a rather warm welcome, but her teammates had faith and belief in her that she'd be able to help their team the best she could in her time with the club.
"I respect these players just so much," Henderson expressed as she reflected on her time with Apollon FC. "These are some talented [young] girls...They have a future ahead of them."
Being able to share the experience with those young players and having mutual respect for each other, on top of even having so much as an opportunity to do so, is her favorite part of participating in the prestigious Champions League tournament.
Different clubs, same goals
Between Apollon in Cyprus and Fortuna in Denmark, the 27-year-old doesn't see much of a difference. When it really comes down to it, the only things that were glaringly different was the difference in scenery and weather. Everything else really came down to the fact she had the amazing opportunity to do what she loves.
"I mean, I loved both the experiences. The girls on both of those teams are just tremendous people and that was probably my favorite thing from both trips," the Notre Dame alum explained when reflecting on both of her experiences.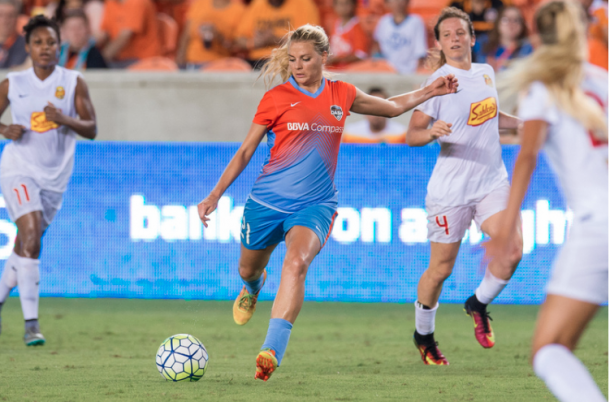 Looking even further, when looking between her two stints overseas and playing with NWSL-side Houston Dash, besides the small things it's all just the same to Henderson. She admitted, "They're different arenas you're playing in, practice facilities you're at, the nutritional coaches coming in and out are either there or they're not there depending on where you're at." Yet none of those truly stood out to her as something that she took into concern when comparing her experiences as she pointed out, "When it comes down to the sport, it's soccer - it's what we know and we love."
Future overseas?
The Houston Dash player returned back to the states once Apollon FC was knocked out of this year's Champions League tournament. For her, the biggest takeaways of her time abroad would have to be getting more experience and time on the field, as well as a new sense of grit and confidence.
"I think since college I've kind of struggled with a whole mentality of having that grit and having that confidence in my own play," she explained to VAVEL USA. "It's ultimately had an impact on how I play. So I think that it was good for me to get at a level where a lot is expected from me and I'm pushing myself to lead in a way that is successful for the team."
When asked whether she would consider playing overseas for a full season, Henderson doesn't have a definite answer quite yet. "With the season of life that I'm in right now, and kind of where my career is at and where I see it going with soccer and further on, I'm not sure that it would be in my future to go overseas for an entire season," she reasoned. However, it isn't completely out of the question. "I'll never say never, but at this point, I'm not sure I see that as what's next."