With the year winding down, the USWNT and Romania will face each other for the second time this week, and in history. Before entering Thursday's match, Romania was expected to be a pretty challenging side considering they finished second in the 2017 Euro qualifiers. The 8-1 victory for the USWNT wasn't much of a test, but it was definitely fun for fans. The game will be played November 13 in Carson, California (FS1, 9:30pm ET).
Ellis continues experimenting
The last three friendlies have been very experimental for the national team. Coach Ellis has been toying with using only three defenders and putting more players in the midfield. Her point is to get the ball forward through the center of the field, which is why usual attacking player Allie Long has been moved to center back. Long, of the Portland Thorns, expressed initial shock with the move, but is embracing the new role. Ellis has moved usual center back Becky Sauerbrunn to the outside with newcomer Casey Short on the other side. Those three have looked pretty good together so far, so a drastic change in that line doesn't look likely. Although they haven't been given a real challenge, they've managed to communicate well and get the ball out of harm's way most of the time.
An interesting thing to watch out for is where Morgan Brian is placed. Brian has been sitting behind her Houston Dash teammate Carli Lloyd all year, but Lloyd is out for both games. After playing in her natural position as a central attacking midfielder and scoring a goal, Brian could be moved back in favor of Stanford junior Andi Sullivan or replace fellow Dash teammate Kealia Ohai on the wing. Christen Press​, Crystal Dunn, and Lynn Williams had a pretty solid first half on Thursday with Press getting a hat trick, but it's possible Ellis could work Alex Morgan back into the starting lineup.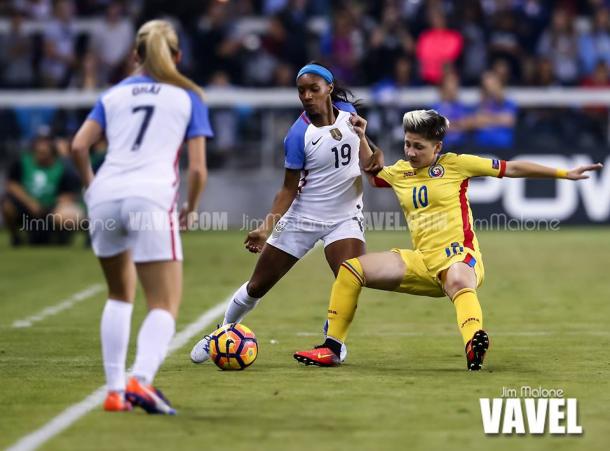 The last 18
With 24 players being called into camp, it's impossible for all of them to suit up. Six players weren't in the starting XI or subs for the Thursday's match. There are a few new and old faces that could return to the game day roster. The goalkeeper is likely to be Alyssa Naeher after Ashlyn Harris got the start Thursday. It would be useful for Adrianna Franch to get a nod in goal, but most likely won't suit up again. Veteran defender Ali Krieger was called back, yet didn't make the last 18. Her return would be at the dispense of Short, who has played every minute of the last three games. First-time call up Emily Menges could get a chance at her first cap considering Abby Dahlkemper is out with a foot injury. The midfield could end up seeing the return of Megan Rapinoe as she continues to recover from her December 2015 ACL tear. Another first-time call up Kristen Edmonds would be able to make the roster in favor of either Ohai or Sullivan. The forwards aren't likely to see any changes from the starting XI or the bench, unless some switching happens in the midfield.