Midfielder Tori Huster signed another updated contract to continue the 2017 NWSL season with the Washington Spirit. In the 2013 NWSL season, Huster was selected as the second pick in the NWSL Supplemental Draft. 2017 will mark her fifth season with the Washington.
Huster's stats from previous seasons
During the 2016 season, Huster has started in 19 games. With a successful season, Huster played the most regular season and postseason games amongst any other player on the team, including former Washington Spirit captain Ali Krieger. Huster's playing time allowed her to contribute a goal and one assist, which both occurred while playing against Sky Blue FC.
In 2014, the midfielder started 22 of the games with a total of 1,980 minutes contributing to the Spirit's success.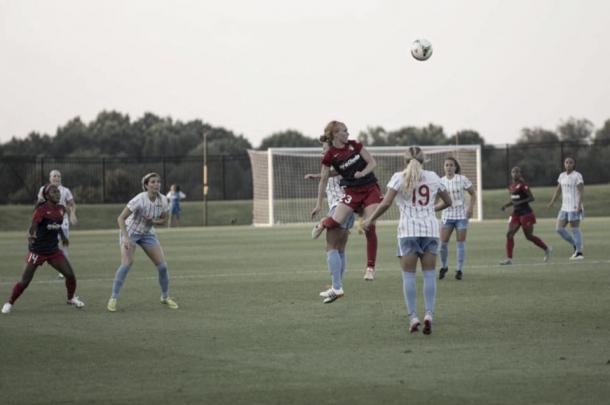 Not the first contract with the Spirit
Although the news of the Spirit signing Huster was released today, this isn't the first time she has signed a contract with the Spirit. In November of 2014, Huster signed a revised contract for the 2015 season. Although the details of both contracts were not disclosed, Huster will continue to represent the NWSL team for the following 2017 season.
Thoughts from head coach
In regards to Huster's contract being updated, head coach Jim Gabarra expressed his thoughts about the re-signing of the midfielder for this upcoming season:
"Tori was an integral part of our midfield during our historically successful season in 2016. It was rewarding for us all to see her consistently high level of play up through the NWSL Championship match. We're very happy she signed a new contract and look forward to continuing to work together."
2017 season for the Spirit
As the Spirit continues to embark on player revisions for 2017, the NWSL College Draft is also ahead of them. After losing the 2016 NWSL Championship game in a close match against the Western New York Flash, the Spirit has to look forward in order to accomplish their goals of continued success and the possibility of remaining at the top of their league.