Last November Seattle Reign FC signed Dutch forward Manon Melis to participate in the 2016 NWSL season. After being with the team for just under a year, Melis has announced her retirement from professional soccer.
Netherlands to the states
Melis joined the Netherlands team back in 2004 and holds the record for the top scorer for the dutch team with 55 goals in 132 caps. After retiring from international soccer this past year, she came to Seattle for a new journey she was signed with the Reign.
"Playing in the U.S. was something I've wanted to do for a very long time, and it was a great season. We wanted to reach the playoff games, and while we didn't it was still a good season for me. Just the experience of the league and everything around it was nice." -Manon Melis
During her time with the Reign this past season, she has a total of seven goals as well as two assists during the 16 games that she participated in.
As Melis suffered from a fractured tibia, her playing time on the field wasn't to it's full potential due to her recovery process.
Melis' recognitions
On August 31st, which also happened to be Melis' 30th birthday, she was awarded NWSL Player of the Week in a game against the Portland Thorns.
On October 5th, Seattle Reign announced it's annual team awards, which consisted of the 2016 Goal of the Year by Megan Rapinoe and the 2016 Golden Boot to Manon Melis.
With her 16 caps with the Reign, she scored seven goals this season. Four of these goals were scored within the final five matches of the season games. With Melis' determination and drive to score, the Reign is at a great loss from such a key component to their game.
What's next for Melis?
After being with the Netherlands National team for 12 years and leaving an unforgettable legacy to pass onto other Dutch players, Melis came to America in search of being able to participate in a new aspect of a club team. She stated, "I've been away from home for ten years, playing abroad. Beinga way from my husband all the time wasn't fun anymore. I wanted to play in the U.S. and I did it and it went very well, but I feel ready for new steps in my life."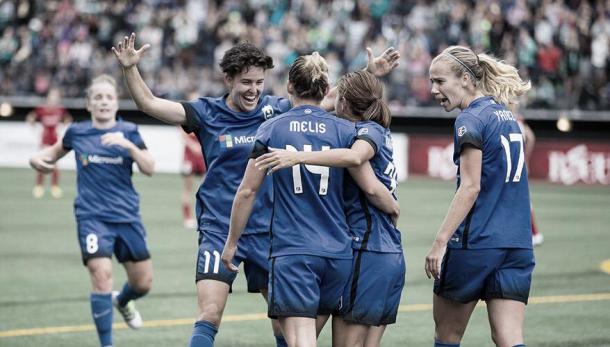 As she mentions not enjoying leaving her husband while playing abroad, the former dutch player now has new endeavors to encounter with whatever that may entail. Her impact on the Reign has implemented a fresh playing style of fearlessness to her fellow teammates and fans. Although the Reign forward has left deep shoes to fill, her time with Seattle Reign has been nothing short of amazing.