The United States Women's National Team and the Switzerland National Team will meet once again at U.S. Bank Stadium in Minneapolis, Minnesota on Sunday October 23rd. As this marks the fourth match between the two countries, it will complete the duo match that has already taken place this past week.
A glimpse of the previous game
When the two teams came together to play this past Wednesday, it was a trial for both teams to know what to expect for the next game. Switzerland's defense held up strong as the U.S continued to take shots on goalkeeper Gaëlle Thalmann.
At the half of the game, the match was still scoreless. Western New York Flash player Lynn Williams starts the parade of goals by making her first goal within the first 50 seconds of the half. Three more goals follow from Tobin Heath, Christen Press, and Sam Mewis. This game marked the beginning caps for five new players who are hopefully in the starting line up.
Expectations for the next game
With the U.S involving new faces on the field, Switzerland is gaining experience of veteran's and first time cap players of what to work on and how their set up their plays.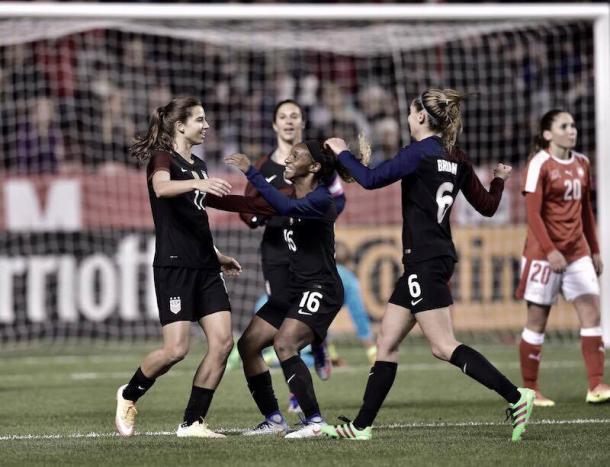 In their latest match, the U.S had a total of 12 shots on goal while the Swedish team had two shots. As Switzerland attempts to take over on the offensive side, the quality and accuracy of their shots on goal is something to improve on.
While the U.S have put the Switzerland team in a position to play defensively, the U.S team can work on their offsides for this coming game. They had about five opportunities where they were offsides. The Swedish team were offsides about twice as they timed out their plays more accurately.
The upcoming match
After four days from the third match, both teams will be well rested and more experienced as to the competitive level that they will play up to. Although there isn't any feedback via quotes on the game, U.S team members did tweet about the success of the game. With the practices held for this next game, there is potential for both teams to improve in what they lacked to bring on Wednesday night.
As the bar has been set high with a 4-0 match already, hopefully U.S coach Jill Ellis is able to start new players based on the success from the previous match. With the Switzerland team losing one of their key players Laura Dickenmann just before the game, it will be an even greater challenge for the U.S if she returns to play for the second match.
The game located in Minneapolis will be aired on Fox Sports 1 as kick off begins at 12:45 CT