After releasing the Re-Entry Wire as part of the End of Season Process on Wednesday, the National Women's Soccer League (NWSL) announced on Thursday that Seattle Reign FC have selected midfielder Sinead Farrelly off of the NWSL 2016 Re-Entry Wire list.
Farrelly experienced amongst NWSL clubs
The 26-year-old Pennsylvania native has played with three different clubs in the NWSL since the league began in 2013, earning a total of 52 appearances, three goals and two assists in her NWSL career so far. Farrelly, a product of the University of Virginia, played for FC Kansas City in the league's inaugural season back in 2013. She would score one goal in 16 appearances for the club before being traded to the Portland Thorns the following season. The midfielder would spend both the 2014 and 2015 season with the Thorns, scoring two goals in her 36 appearances for the club.
Farrelly was then traded by Portland to the Boston Breakers for the 2016 season. However, she was placed on the season-ending injury list and thus never made an appearance for the Breakers this past season.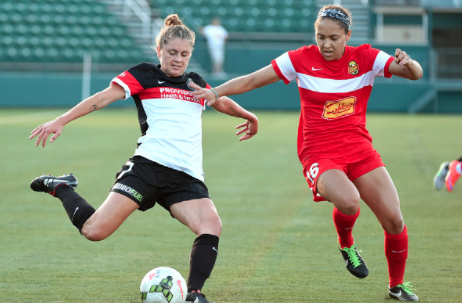 Remainder of players on Re-Entry Wire not selected
Out of the 13 players that were named to the Re-Entry Wire list, Farrelly was the only one selected by any of the 10 NWSL clubs. The other players that were not selected off of the Re-Entry Wire list are as follows (previous clubs in parentheses): Eunice Beckmann (Boston Breakers), Ellie Brush (Houston Dash), Janice Cayman (Western New York Flash), Michelle Cruz (Seattle Reign FC), Laura Del Rio, (Washington Spirit), Ghoutia Karchouni (Boston Breakers), Jami Kranich (Boston Breakers), Molly Menchel (FC Kansas City), Kaitlyn Savage (Orlando Pride), Katie Schoepfer (Boston Breakers), Jennifer Skogerboe (Portland Thorns FC) and Rachel Wood (Boston Breakers).
The Re-Entry Wire is now closed and teams are no longer allowed to claim any of the players that were on the list.