Following the acquisitions of MLS Cup champion Will Johnson from the Portland Timbers as well as a former winner with Colorado Rapids, Drew Moor, General Manager Tim Beztbachenko and the entire Toronto FC's world, made a bold title statement ahead of the new campaign.
"We are pleased to add another Canadian international and veteran player with MLS experience that has won two MLS Cups with two different clubs in his career. The addition of Will Johnson will help strengthen our goal of developing a winning culture and spirit here at Toronto FC. He represents another significant piece as we continue to build a championship-caliber club'', Betzbachenko had quoted.
This season proved to be a successful one under the guidance of Greg Vanney, the same man who was continuously in the eye of the storm both last season and also during mid-season of this campaign. Even though Sebastian Giovinco performed at his best once again, Vanney was instrumental in his tactical approach, both at collective but even further at an individual level, in particularly with Jozy Altidore, transforming him from a static striker in the box to a target man in the center of the midfield.
2016 campaign: Ambitious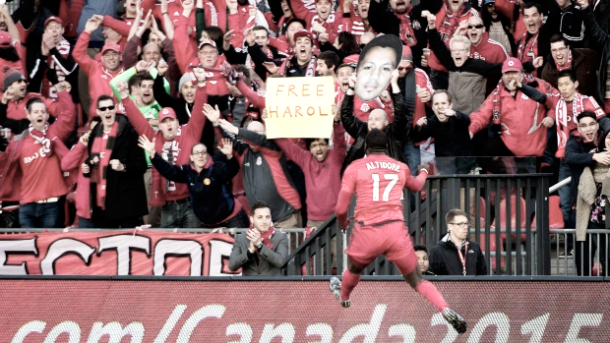 Toronto's opening fixture resulted in a surprising 2-0 win on the road against the New York Red Bulls, with goals coming from Giovinco and Tsubasa Endoh, on whom Vanney had relied in the opening matches of the season. The Canadian side was forced to play its first eight fixtures on the road, due to the restructuring of their home, BMO Field. In the following matches, Vanney's side drew at the other side from New York, New York City FC and then fell twice in a row at Sporting Kansas City and Colorado Rapids. Their next win came in the sixth match, as after drawing 1-1 at New England Revolution, Toronto emerged victorious at D.C. United and afterward also managed to sweep off Montreal Impact.
Their strong start on the road promised well for the side from Toronto, and when they headed back to the BMO, they did not bottle their first match, as they saw off DC United. Nonetheless, that match paved the way for a mini crisis and lot of criticism towards their coach. Toronto had managed to collect 16 points from a possible of 38 points, losing badly to NYRB, while also upset critics by beating the likes of LA Galaxy and Vancouver Whitecaps.
Turning point
Their 'humiliating' 2-1 loss at San Jose Earthquakes played a significant role in Toronto's rising to the top. On July 17, Toronto managed to emerge as losers from San Jose, despite playing against nine men. It was a disastrous performance from all the players, including goalkeeper Alex Bono, the youngster who was replacing Clint Irwin for most of the season due to a long-term injury. From that match onwards, Toronto won six matches from the next seven encounters, before falling surprisingly to a struggling Montreal Impact side, on home soil.
Despite losing to their eternal rivals, Toronto proved to be a serious contender for the MLS Cup, but also for the MLS Supporters Shield at that moment, as they were closing the gap between the Western Conference rivals, FC Dallas and Colorado Rapids.
Playoffs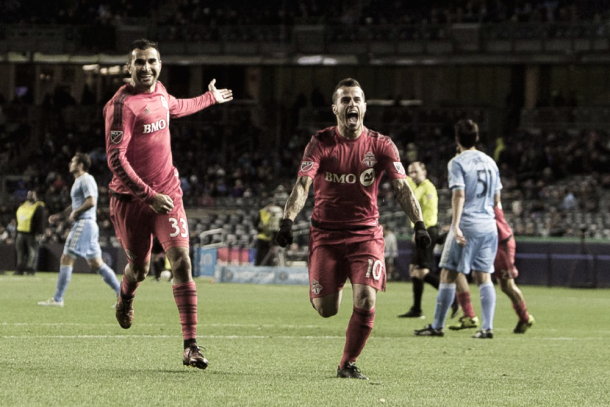 The Canadian club booked a place in the playoffs courtesy of their third place, their highest rank ever in the regular season. In the first round, they entertained the Philadelphia Union, in a rather one-sided game as the home side won comfortably by three goals to one.
Their real test was expecting them the following Sunday, when NYCFC was coming into town, boosted by their second place finish, behind their rivals NYRB. Yet, Toronto put up a surreal performance, even though their two goals arrived late in the match, through Altidore and Canadian international Tosaint Ricketts. Nonetheless, their biggest performance arrived at the famous Yankee Stadium, as the Canadian team hammered Patrick Vieira's side 0-5, with the Atomic Ant registering a splendid hat-trick, the day after MLS left him from the MVP race.
Stay tuned to VAVEL USA as we will bring more coverage of both Conference Finals in the days leading up to the first leg.