The first leg of the Eastern Conference Finals between the Montreal Impact and Toronto FC will be played in Montreal but not at Saputo Stadium. The Impact decided to play the game at Montreal Olympic Stadium, also known as the "Big O".
Saputo Stadium has a capacity of 20,801 compared to Olympic Stadium which has can hold 66,308. The more people they can pack into the "Big O" the louder it will be for the Impact. With already over 50,000 tickets sold, this could be a huge advantage for Montreal.
Toronto not afraid of the "Big O"
The biggest difference between the two stadiums is the turf. While Saputo has a grass field, Olympic Stadium has artificial turf. As everyone knows, the ball plays much different on turf than on grass. Toronto head coach Greg Vanney knows the issues that will be at hand.
"Usually these turf fields are fast, they're bouncy. The game has a hard time settling down because the ball doesn't settle. It's a different type of game, we have to be ready for anything. You have to be switched on, ready for a game that could be high energy; the ball will be fast, the intensity will be there no question."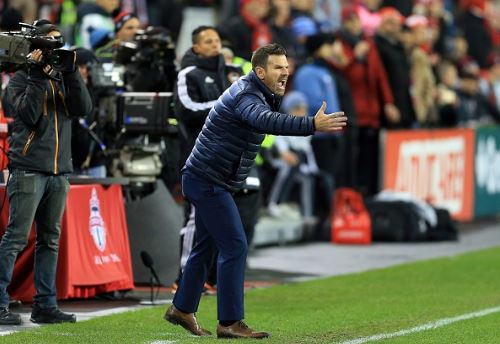 "Turf is just one factor. If they train on it, maybe they get an advantage, but the game comes down to who can execute in key moments and who is aware of the strengths and weaknesses of the opposition, and who can deal with it."
This will be the fourth time that Toronto has played at Olympic Stadium and they have yet to win a game there. In MLS play, they lost both matches there by identical 2-1 scores. The third time was during the Amway Canadian Championship where they game away with a 0-0 draw.
Toronto looks to set themselves up
Toronto will be able to play the second leg at home at BMO Field and Toronto will hope to come out of leg one with an advantage. The question remains will Toronto bunker or will they come out firing looking for that all important away goal?
"It's important that we set ourselves up appropriately. That's the key to going on the road first," explained Vanney. "We've seen in this last round; it doesn't always benefit those teams [to have the second leg at home]. We have to be smart about it: pay attention to details, stay together, work hard for the common goal. If we can do that, we give ourselves the best shot."
Vanney knows how important it is to play well on the road because as he said in the comment above, playing at home in the second leg doesn't guarantee an advantage.
Toronto players looking forward to the first leg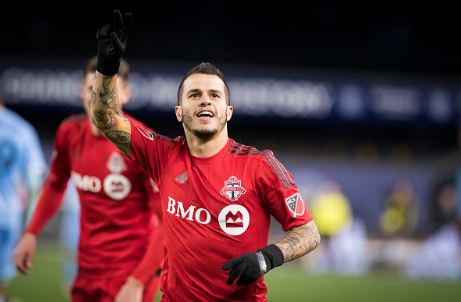 Two Toronto players are looking forward to playing at the "Big O". It's not very often you get to play a sport you love in front of over 50,000 fans, especially in MLS.
"It's going to be a great crowd, [a] good time atmosphere, so we're excited about that," said TFC goalkeeper Clint Irwin.
MLS reigning MVP Sebastian Giovinco welcomes the spectacle that is a large crowd; "It's a show; the more people in attendance the better."
Stay tuned to VAVEL USA as we will bring more coverage of both Conference Finals in the days leading up to the first leg.