New York City FC midfielder Frank Lampard has announced he will leave the MLS side at the end of his contract.
Lampard's two-year deal with City ends this December, and despite a strong second season with the newly formed team, the 38-year-old midfielder has decided to end his stay in America after just two years.
An emotional farewell
The Premier League icon posted on his Instagram a heartfelt message to the NYCFC fans announcing the news, saying: "As my time at NYCFC comes to an end I would like to thank so many people for the kindness and support that they have shown me over the last two years."
"My teammates have been a pleasure to play alongside. The amazing fans have given me incredible support and backing. All the people that work behind the scenes at NYCFC have made it so easy for me to work and settle here. I have very much enjoyed my time, and I am very grateful to have had the opportunity to play for such a great club and in such an incredible city."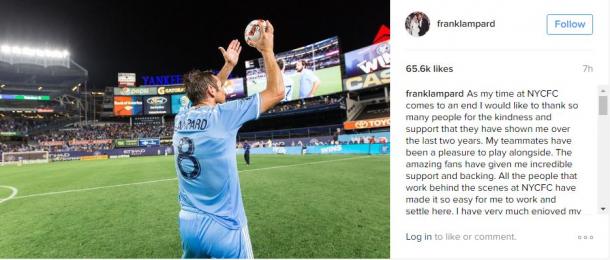 Lampard also teased what his next career move will be, saying: "I leave with many great memories as I embark on the next stage of my career and I'll be making an announcement very soon."
The former Chelsea midfielder made 31 appearances for NYCFC across the two seasons he spent at the club, scoring 15 goals, and becoming the first player in the franchise's history to score a hat-trick.
A rocky start to life
In the opening weeks of the 2016 MLS season, Lampard was dubbed by many fans and journalists as the worst signing in MLS, due to his lackluster performances in the previous season, where Lampard scored three goals in the 10 games he featured in for NYCFC's inaugural MLS season.
Injuries kept the West Ham academy graduate out until May, where he started in City's 7-0 lose to rivals the New York Red Bulls at home. However, after that slip-up, Lampard went on to score 12 goals in 19 MLS appearances.