Javier Aquino has been ruled out for Mexico's World Cup qualifiers against bitter rivals the USA and Panama after picking up an injury during warmups in his club match with Tigres against Tijuana Friday night. His replacement is fellow club teammate Jurgen Damm who will bring a different skill set that could help Mexico over the next two games.
Mexico loses consistancy
The lose of Aquino is a tough one for Mexico because he was playing some high level soccer and could of been a possible start for Mexico on one of the wings. His work rate will be missed the most, his ability to high press and put outside backs under pressure, while also tracking back and covering for defenders made him a great candidate to start Friday. Add his offensive ability to run at players with the ball by either cutting inside or attacking from the width, his style would force his mark to work tirelessly.
Jurgen with a chance to impress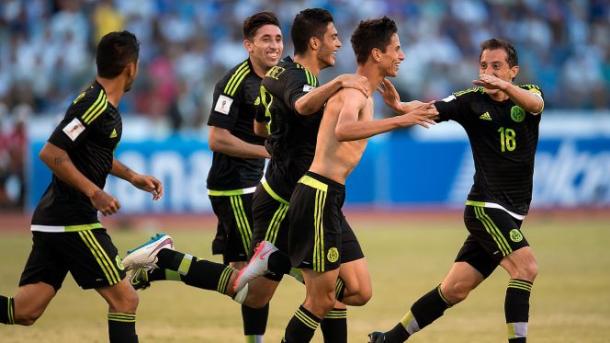 Enter in the Mexican starlet with the German name, Jurgen Damm. With all the options Mexico has to attack with, it's hard to see Damm cracking the starting lineup. What he does offer though is a great option off the bench much of the same way he was used against Honduras during Mexico's 2-0 win last year. Subbed in the second half, Damm's speed and pressure was essential in taking advantage of a gassed Honduras backline.
This pressure paid dividends as he was able to steal the ball and smash home the second goal of the game for Mexico and put the game out of reach. He can be used in the same manner if Mexico finds themselves with the lead. A release valve for a counter. He has elite speed with the ball and he's shifty, so given the chance to have a fresh legged Damm run at tired defenders could be huge if Mexico want to put the game away.
As for the rest of the team, Osorio still has plenty of options with whom he could use, including playing Carlos Vela, Giovani Dos Santos, or Marco Fabian, as attackers who will play behind the last forward (most likely Chicharito Hernandez), or the midfielder higher up the field and be the link between the rest of the midfield and the attack. All the players mentioned have a tendency to drift out wide without the ball which can open channels for others to attack.
With Aquino out and Damm in, Mexico lose a hard working professional and replace him with a sparky youngster. The team should have plenty of quality to overcome the lose as it gears up to take on the USA in Friday and Panama next Tuesday.