Juan Carlos Osorio has released the Mexican National team roster for their World Cup qualifiers against bitter rival United States in Columbus, Ohio, followed by a trip to Panama City to face Panama.
Osorio will try to get Mexico their first win in the Midwest city, as they've failed in their past four trips there, all leading to 2-0 wins for the Stars and Stripes.
Osorio, who's known for rotating his players, did none of that with this roster as he took what can be seen as his best roster in the year he's been in charge. He's bringing the best Mexico has to offer, in-form Giovani Dos Santos, to Javier Hernandez, and PSV duo Hector Moreno and Andres Guardado.
Talent and depth for Mexico
In goal Osorio has called him Mexico's three most trusted men in goal with Alfredo Talavera, Jesús Corona, and Guillermo Ochoa. In the back, Moreno and Carlos Salcedo are joined by fellow European-based players Diego Reyes and Miguel Layun. Also making the list is 37-year-old legend Rafael Marquez.
The midfield is just as deep with Hector Herrera, Guardado, Gio's brother, Jonathan Dos Santos, and in form Frankfort playmaker Marco Fabian all making the list to kick off the Hex.
Joining Hernandez up top are fellow European attackers Raul Jimenez, Carlos Vela, and Jesus Corona.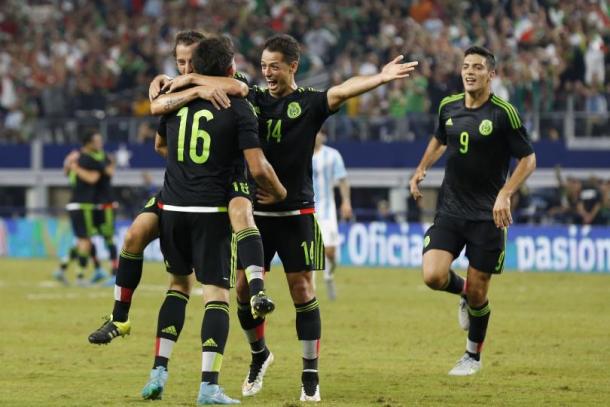 Liga MX's best
From the domestic league Hugo Ayala, Oswaldo Alanis, and Nestor Araujo join the backline. All players who've played a fair amount under Osorio including Alanis and Ayala's standout showing against Honduras a year ago. Jesus Duenas, Orbelin Pineda, Javier Aquino, Oribe Peralta, and Hirving Lozano also join Mexico from the Liga MX to round out the roster.
The quick observations from the roster is that Osorio isn't messing around. He understands the importance of the upcoming matches and the and this is close to Mexico's best possible roster as they can have.
You have to believe that the team will have a real belief in themselves that they can go into Columbus and get a famous result there. The options that Osorio will have in terms of formation and player options are as good as he can get. This team is deep with attacking options, and options that bring something different. Lozano and Corona are attackers who like to attack from the wings and get inside. While Fabian and Dos Santos are midfielders who like to drift and be the link between the midfield and attack. Raul Jimenez is Mexico's biggest and most athletically gifted forwards and has played well under Osorio. Of course, there's also Vela, who on a purely footballing standpoint is still Mexico's most talented player and could turn a game on his own when in form. How and who Osorio chooses to join Hernandez with up top will be fascinating.
Over the next week it will be interesting to see what Osorio is willing to show during the training session and how he can best fit all his options into a starting XI. Still, this is a Mexican roster with more than enough talent to get a result in Ohio.
ROSTER
GOALKEEPERS
Guillermo Ochoa (Grenada)
Alfredo Talavera (Toluca)
Jesus Corona (Cruz Azul)
DEFENDERS
Diego Reyes (Espanyol)
Hector Moreno (PSV)
Carlos Salcedo (Florentina)
Rafael Marquez (Atlas)
Hugo Ayala (Tigres)
Oswaldo Alanis (Chivas)
Nestor Araujo (Santos)
Miguel Layun (Porto)

MIDFIELDERS:
Héctor Herrera (Porto)
Andres Guardado (PSV)
Jonathan Dos Santos (Villarreal)
Giovani Dos Santos (LA Galaxy)
Marco Fabian (Frankfurt)
Javier Aquino (Tigres)
Jesus Duenas (Tigres)
Orbelin Pineda (Chivas)
FORWARDS:
Carlos Vela (Real Sociedad)
Jesus Corona (Porto)
Javier Hernandez (Bayer Leverkusen)
Oribe Peralta (America)
Hirving Lozano (Pachuca)
Raul Jimenez (Benfica)