In a move which was rumored to happen, Arizona Coyotes' GM John Chayka announced today that center, third overall pick in the 2015 draft, Dylan Strome was being assigned back to his OHL junior Erie Otters team.
In a statement to the press Chayka said:
"Dylan has made exceptional progress and continues to make strides to being an elite center in this league," said Chayka. "At this point in time we felt it was best for his development to get him back playing in junior, but his future in the NHL is very bright."
The move is hoped to allow Strome to improve further with his below average skating ability, and keep him active playing. He only appeared in seven games, averaging 13:41 minutes of playing time. He was a healthy scratch for 10 games.
Wanted: NHL center
At this point, the team may be searching for another center to replace Brad Richardson, although Christian Dvorak was called up from the AHL Tucson Roadrunners to play in the game last night against the San Jose Sharks.
Jordan Martinook, a winger has been filling in at center for quite a few games of late. The team may look outside of the organization to fill in the spot vacated by Brad Richardson's extended injury.
Chris Mueller is playing really well in Tucson, with three goals, 10 assists in 11 games. He is a veteran player at 30 years of age, but has played mostly in the minor leagues. He scored 20 goals last season with 37 assists for the San Diego Gulls.
Will Stone be traded?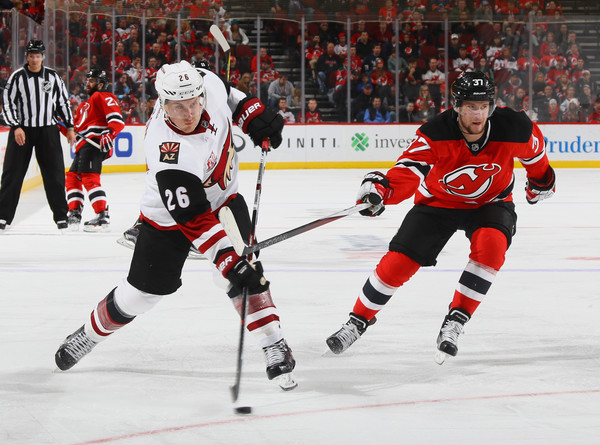 There have also been rumors that the Coyotes are shopping Michael Stone, since they have so much depth on the blue-line this season. Rookie Anthony DeAngelo has caught the attention of the coaching staff as a player they want to have in their lineup. Last night against the Sharks, DeAngelo was playing on the power play, showing the coaching staff has confidence in his ability.
If the Coyotes could strike a deal to move Stone, they could see what centers are out there to give them some more depth at center ice.
Looking back at the 2015 draft
It's always terrific to look back at your draft choices in hindsight to see how well you drafted. At this point, with the failure of Strome producing enough to remain in the NHL, it becomes interesting to think back at who was on the board when the Coyotes turn to draft at the third selection position in the 2015 Entry Draft was called.
Mitch Marner was on the board, and went right after Strome to the Toronto Maple Leafs. To say he has progressed much better than Strome goes without saying. He has seven goals and nine assists in 18 games showing the critics who said he was too small for the NHL are eating crow right about now.
So, how would have a Marner performed in a Coyotes' uniform? Probably just as well, but we'll never know since he is playing in Toronto and playing exceptionally well, at that.
For Strome, he needs to use this as a reality check just as Max Domi did when he was sent back to juniors. He must work on his game, his body to get to the level of play necessary to stay in the NHL.
When he returns to training camp next fall, he should have the attitude that he has improved enough to be worthy of a NHL roster spot by doing what he did so well in juniors. He has the ability, now he needs to step up and perform. It's up to him.