The Arizona Coyotes are good at digging holes for themselves. After their less than inspiring road trip, which saw them lose five in a row out of six games, they have only won four of eight.
They do have injuries, but most NHL teams do, and the vast majority of them still manage to find ways to play hard each night. The Coyotes just haven't done that yet.
Luckily enough for the Coyotes, the 2016-17 season is still young, as is the team, and they have some time to figure out what they need to do to play better.
Injuries aren't helping their demise
This week Mike Smith, who has missed ten games due to a lower body injury, may return. He is not expected to be back for the Coyotes' two next games in Calgary against the Flames or when they play the Vancouver Canucks on Wednesday and Thursday.
Michael Stone did return to the lineup against the Boston Bruins in last Saturday's disappointing loss.
It's anybody's guess when Martin Hanzal will return after he has missed five games from his ever present reoccurring lower body injuries.
Trade rumors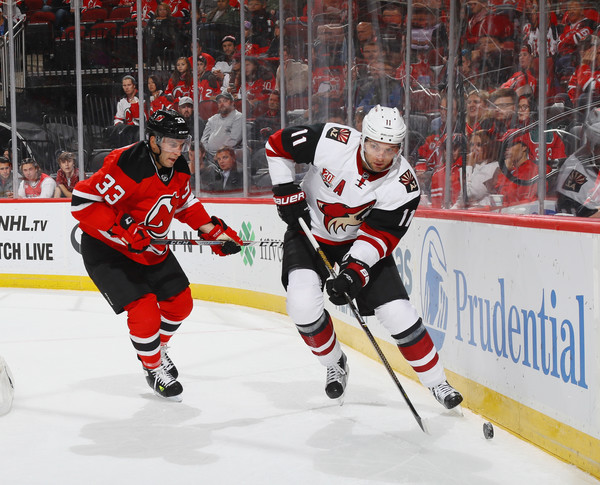 Speaking of Hanzal, the rumors of him possibly being traded haven't subsided. According to Elliotte Friedman, he thinks teams are calling the Arizona Coyotes about center Martin Hanzal. Hanzal will be a free agent at the end of the season. The Coyotes would only move Hanzal if they are able to get a young player that could help them now. They'd prefer a young centerman.
Really? Another centerman?
The Coyotes are rich with young prospects at center ice. Yet, Hanzal has to go. He's missed so many games due to injuries, that his lack of usefulness has become a detriment to the team's success. It's only hoped that his value hasn't depreciated significantly, causing the Coyotes to not get a good return in a possible trade.
There have also been swirls of rumors that the Calgary Flames are interested in moving Dougie Hamilton. The Coyotes, along with the Pittsburgh Penguins have been listed as possible suitors for his services.
Again, not sure why the Coyotes should add another defenseman to their roster when they are loaded up right now?
Puck possession 101/"killer D's" low goal production
The downfall so far this season for the team has been puck possession, or the lack thereof; you can't score if you're always defending. Louis Domingue has kept his team in games, but he can't do it himself. The Coyotes like to dump the puck and chase it, except they aren't equipped with the players who can retrieve it in the corners.
Why not attempt to carry it in? Max Domi does this with some success, but he seems to be the only one.
The other factor is the "killer D's" lack of contribution, especially Anthony Duclair. Max Domi is actually tied with Radim Vrbata for the team lead in scoring with 11 points, but has only one goal so far. Add in Duclair's low production, one goal, two assists, and the team is hurting. Their spark from last season seems to have subsided quite a bit.
Excuses won't do
This team has talent and maybe when Smith gets back things will improve. They are currently in last place in the league with a meager 10 points in 14 games. Something needs to change and one begins to wonder how much more patience both GM John Chayka and Head Coach/V.P. of Hockey Operations Dave Tippett will exhibit as time progresses.
Tippett is not afraid to sit players down and he has a very talented AHL team in Tucson who is playing some excellent hockey. The Tucson Roadrunners are second in the AHL with 16 points in 10 games with a 7-1-2 record.
Something needs to happen, this team is not as bad as they are playing right now.