Today, the Los Angeles Kings activated Jeff Zatkoff to the roster and sent Jack Campbell back to the Ontario Reign of the American Hockey League. This poses a bit of a problem, a good problem, for the Kings for the foreseeable future: do they rush Zatkoff back or stick Peter Budaj for this upcoming road trip?
A look at Budaj's numbers
When Zatkoff went down initially, there was a bit of panic in the air surrounding the Kings, as they were then forced to use their third goaltender of the season. Much to their surprise, Budaj performed admirably in his first four games as a starter this year. Budaj won those first four starts, all of them coming after regulation.
One thing that was not as good as it could have been when Budaj was in net was the team defense. Throughout each of the nine games Budaj started, the Kings allowed 20 or more shots in six of those games. Against the Ducks, they only gave up 16 attempts, but four of those were scored.
A big, glaring flaw of Budaj's though, was rebounds. More times than not, when Budaj stopped a puck, it would often go back towards the slot. That is not where you want the puck to go. Ideally, a goalie will want to push it with his pads towards the side boards. This gives the defense a better chance of clearing the puck to the neutral zone.
Time for Zatkoff?
Jeff Zatkoff took over when Jonathan Quick pulled a groin muscle in the first game of the season against the San Jose Sharks. Zatkoff played two more games before he got a lower-body injury of his own.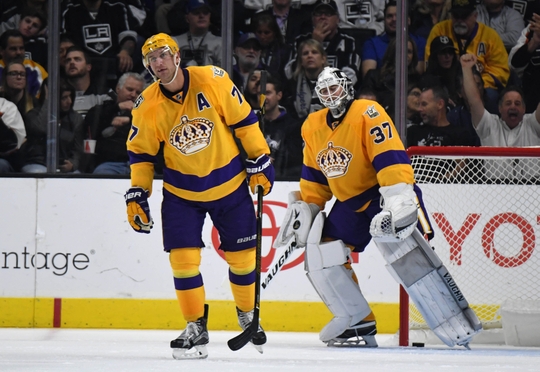 In the three games he played, however, his numbers are not great. He played a little over two games, and gave up ten goals, while only stopping 52 shots. If Zatkoff wants to be the number one option before Quick comes back, he is going to have to step up his game. When Budaj is on, he is great between the posts, and Zatkoff will need to show that he can play just as well.
At this point time, however, the King should more than likely stick with Budaj. Budaj and the rest of the team have good chemistry and just came off their first shutout of the season. Until Budaj completely falls apart, the 39-year-olds should get the starts.