Arizona Coyotes' forward Anthony Duclair remembers well his first game in Anaheim last season on October 14th, when he scored a hat-trick against the lame Ducks. What a difference a year makes. This season, after nine games played he has yet to dent the net with a goal against any team.
Perhaps, playing against the Ducks will get Duclair, who scored six goals in five games against them, back on track again.
What perhaps needs to be is that he gets teamed up with his buddy Max Domi on the same line, but that hasn't happened much this season with Head Coach Dave Tippett splitting them up on different lines. They have teamed up for the power play on the same line, but without a goal to show for it for "Duke".
Anaheim Ducks so far
The Ducks' record is 4-5-2 over 11 games thus far. Their top scorer is Ryan Getzlaf with one goal and eight assists in the nine games he's appeared in thus far. He sustained an upper-body injury in the game against the Columbus Blue Jackets and did not play in the next two games against the Los Angeles Kings or Pittsburgh Penguins. The Ducks won handily against the Kings but lost 5-1 against the Stanley Cup champion Penguins without their star forward.
The Ducks started out the 2016-17 season by playing five games on the road (sounds familiar) and losing the first four. Since then, they have gone 4-2-1 and just like Coyotes find themselves playing catch-up.
Injuries will be a factor in this game
The Arizona Coyotes have been battling early season injuries, which just seem to continue to mount. Mike Smith is still not returning until next week sometime. Michael Stone has missed several games due to an upper-body injury he sustained from a hard hit by the Philadelphia Flyers Brayden Schenn. His status is game-to-game.
Martin Hanzel is again injured with a lower body ailment which doctors are investigating to see how serious it is. Hanzel has been plagued with injuries issues most of his career, and there comes a time where his value gets depreciated due to his lack of playing time.
It certainly could cost him big time if the Coyotes' GM John Chayka feels Hanzel's worth has reached its peak. He may not be offered a new contract once his current contract expires after this season.
Then, to make matters worse, Tobias Rieder went down while blocking his fourth shot in the San Jose game. He was listed a questionable for the Nashville game and may be ready by the time the Yotes travel to Anaheim for back to back games.
The Ducks may be without Getzlaf and that could hurt their attack on offense. It may even out if both Hanzel and Getzlaf are out of the lineup.
Dvorak gets the call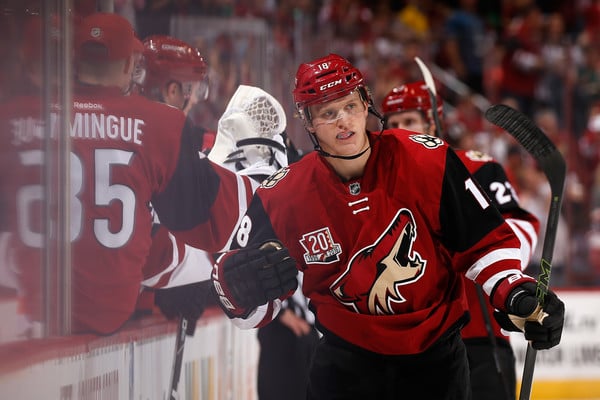 Due to Hanzel's injury, and the uncertainty of his availability, the Coyotes called up Christian Dvorak from the AHL Tucson Roadrunners to fill in. Dvorak had played in seven games with three assists. He will more than likely center the fourth line with Lawson Crouse and Ryan White.
With Hanzel on the shelf, some line changes were in order. Jordan Martinook, who has three goals, two assists gets the call as the first line centerman, with Max Domi, and Radim Vrbata on his wings.
If Stone is not available, his spot will be taken by Kevin Connauton, even though he is a left-handed shot. For some reason, Tippett has been pairing up Oliver Ekman-Larsson with Alex Goligoski even though they play similar styles. Goligoski has no problem playing the right side, as he has done it previously.
Keys to the game
The Coyotes need to remember how they played the Ducks a year ago, and bring that game forward. Anthony Duclair really needs to get his offense going, as his lack of contributing is starting to hurt the team.
The goalies may be Louis Domingue, or Justin Peters could get the start due to back-to-back games. John Gibson will probably be in net for Anaheim.
The Coyotes took the five-game series last season 3-2, and hope to show some additional dominance by using their speed against the Anaheim team.
The Ducks have been quite inconsistent shown by beating the Nashville Predators 6-1, and then turning around the very next game and losing to the winless Columbus Blue Jackets 6-3.
Which Coyotes' team will show up?
Which Ducks' team will show up?