This match-up will be between two teams trying to get their engine started this young season. The usually high standing Nashville Predators come limping into Gila River Arena Thursday night after having played four straight games on the road. Their record on this trip is a dismal 1-2-1, having them wondering what's wrong with their performance. Their overall season record is not too inspiring for a team of their caliber, with a 3-5-1 record, just one point more than the Desert Dogs.
More from the Arizona Coyotes ->> Arizona Coyotes thump San Jose Sharks
The Arizona Coyotes know exactly what that feels like after coming off a six-game road trip back east with only one win to show for it. But, both teams have shown improvement with the Arizona Coyotes winning a game on Tuesday night against the tough San Jose Sharks, and the Predators slamming the Colorado Avalanche by four goals.
Was trading for Subban a good choice?
What the Predators might be second guessing is the trade they made with the Montreal Canadians. Right now, Shea Weber is tearing it up on his new team, who just happen to be leading the NHL in points. He has an impressive four goals, six assists in 10 games, with a +/- of 12. Throw in three power play goals, plus three game winners, and you get the picture.
P.K. Subban is no slouch either, with two goals, three assists, and two man advantage tallies himself. His +/- is not so good at -6, but the entire team has a -35 mark. The Nashville group ranks 20th in goals scored, and 20th in goals against. They've dropped eight positions in that area compared to last season, but it is still early.
Coyotes short-handed
With Mike Smith remaining sidelined until next week, according to Head Coach Dave Tippett, another two players bit the dust in the victory over the San Jose Sharks Tuesday night. Martin Hanzal experienced a lower body injury and left in the second period. Tobias Rieder also went down after blocking his fourth shot. Rieder is expected to be in the lineup, but Hanzal was getting some tests done, and that doesn't sound promising.
The team has a more than adequate supply of players on the AHL Tucson Roadrunners roster to call up to replace Hanzal, should the need arise. A couple who come to mind would be Christian Dvorak, who was just sent down to the Ol' Pueblo on Monday to provide a roster spot for Dylan Strome and Ryan MacInnis, who has two goals and an assist in five Roadrunner games.
Momentum is a good thing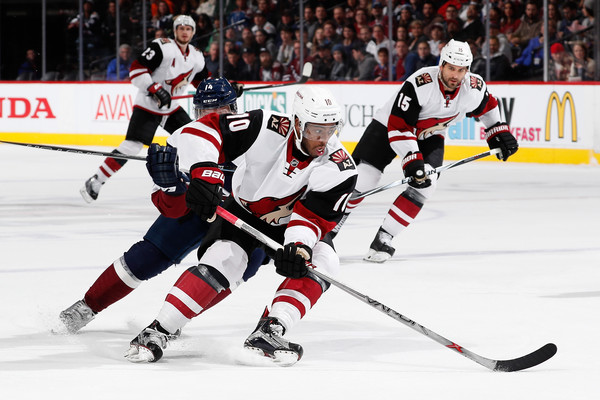 The Coyotes hope to continue their momentum they gained by defeating the Western Conference defending champs on Tuesday night. They did it with an excellent second period, and some tight defense, along with outstanding goaltending. Louis Domingue will again be between the pipes, looking for his third win this season, and if he plays as well as he did against the tough Sharks, he will be victorious.
The defense has tightened as the team allowed less than three goals for the first time this season.
We are all still waiting for Anthony Duclair to break out of his scoring slump, and light the goal light. He had a great chance in the Sharks game when he and Strome broke in alone behind the defense, but Duclair fanned on the pass from Strome near the goal mouth.
Home ice advantage
The Coyotes need to use their home ice advantage and take it to a Preds, who have traveled so much of late. They should be able to add to their excellent play against the Sharks and take home a victory. The puck drops at 7pm at Gila River Arena.