The Arizona Coyotes came into this new season with great aspirations of finally getting to the post-season.
So far, it is just that, an aspiration.
Now, you can certainly cut the team some slack as the NHL schedule makers gave them an uphill climb to start this new season with one home game, followed by six straight on the road.
Still, playoff teams win on the road. They find a way to just do it. Every playoff team last season had a winning record on the road except the Minnesota Wild who held a 17-17-7 record.
The way the Arizona Coyotes are playing right now, they will be lucky to match or exceed their 13-24-4 road record from last season.
So what's wrong with this team?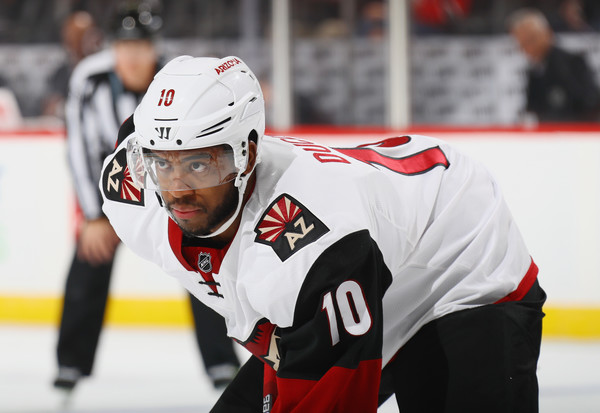 Some observations from the last several years are apparent:
1.) They can't seem to control the puck, or dump it in when they could advance it into the offensive zone. Dumping the biscuit in works only if you have more players the size of Lawson Crouse going into the corners to retrieve it. Giving up the puck too easily has been their downfall.
2.) They upgraded their defense by acquiring Alex Goligoski, Luke Schenn, and added rookie sensation Jakob Chychrun, yet they are 29th in the league with a 4.71 goals against a game average.
3.) Their goaltending has been shaky at best. They've even gone to Justin Peters, who has been an AHL player for help, without much success. Louis Domingue has not played up to his level last season as a rookie after getting a nice two-year contract. He needs to step it up, and he knows it.
4.) The trend in the NHL has been to go to younger, faster players. The Coyotes have plenty of players with that skill, yet are not using them effectively enough to win games.
5.) Anthony Duclair needs to shoot more, he's been invisible. Last season he took 105 shots, and had one of the best shooting percentages in the league with 19 per cent. So, why isn't the puck on his stick more often?
6.) Splitting up the Max Domi, Martin Hanzal, Duclair line has cost the team offense. Domi and Duclair need to be on the same line to be effective and use their speed to get the puck in the net. They showed that last season early by scoring six points (including six goals between them) each in their first five games as rookies. Has the sophomore jinx plagued these two exciting players? Domi does have six assists, and Duclair one, but neither of them have tallied a goal yet, and that's after eight games thus far.
7.) There are numerous new faces on this team, and they have yet to come together and integrate with their new team.
8.) Injuries. All teams have injuries to contend with, but losing Mike Smith early, along with newly acquired Jamie McGinn hurt them more than expected.
There's no time like the present
Improvement is something they must experience, and the sooner the better. Losing six of eight to start the season is a franchise record low. GM John Chayka and Head Coach/V.P. of Hockey Operations Dave Tippett know that, and it's their job to figure it out.
Some decisions must be made soon on young players. Dylan Strome has played exactly three games, and it may be rough to bite the bullet and send him back to junior, but he appears to have all the enthusiasm necessary without the actual production.
One bright spot has been the play of Jakob Chychrun. He plays with poise, toughness, and for such a young player, with skill. It would be advisable to keep him in the NHL. He has made a couple errors, but his overall play is stellar.
Christian Dvorak's play also deserves a roster spot. He has had three assists in seven games, and is still looking for his first NHL goal. It will come. His play on a tough fourth line along with Lawson Crouse and Laurent Dauphin has been displayed the Coyotes' youthful exuberance and helped their puck possession.
Now's the time to turn things around
The Coyotes play the next nine out of 15 games on home ice, and need to take advantage of that. To say they must improve their road record goes without saying.
It's still early, and other good quality teams are also struggling like their opponent on Thursday night, the Nashville Predators. They are just 2-5-1, including two three game losing streaks.
Speaking of streaks, the Coyotes largest winning streak last season was four games. It's time to better that to show they can get back to .500 and have a respectable record.
They have the tools, they just need to use them.