The road-weary Arizona Coyotes may have forgotten what their home ice looked and felt like after a grueling six-game road trip.
The fact that they came home licking their wounds from losing the first five of the six games away doesn't help.
Can the Coyotes get better?
The key factor to watch in this game is how resilient this team will be. Can they continue their improved play, and start to develop into a more competitive team?
GM John Chayka indicated that he is not making any drastic moves to change the team. He is stepping back and feels confident his team will be better.
He mentioned to azcentral.com's Sarah McLellan, "My urgency isn't looking externally at this point. My urgency is looking internally and what are we doing. How are we doing it?"
They showed improvement in the last three road games, and came away with a significant win against the rough and tumble Philadelphia Flyers on Thursday night to at least bring home two points. They remain in last place in the NHL, nonetheless.
More from the Arizona Coyotes ->> Arizona Coyotes losing streak ends with win against Philadelphia Flyers
We saw an unlikely hero in that game emerge in the person of Ryan White. His gritty fourth line play, along with Laurent Dauphin, and Lawson Crouse has shown they can mix things up.
White pretty much fits the mold of a scrappy, get-in-your-face kind of player the team needed. Granted, he gets called for too many penalties, but his style has made a difference.
He got caught closing his hands on the biscuit not long after he gave his team the lead 5-4 in the Flyers' game. Let's just say he lacks some discipline.
The Strome factor
Another point is what is going on with Dylan Strome? It seems apparent that the coaching staff may think he's STILL not ready to play in the NHL.
He's only appeared in three of the seven games this season. The options with Strome are limited. He cannot go down to Tucson, due to NHL rules, and his age. The alternative is he goes back to junior, and who knows what that will do to his confidence.
Along with the concept that the Arizona Coyotes like to not rush their prospects, there was lots of hype that the third overall selection in the 2015 NHL Entry Draft would be something special.
So far... (and it's only been three games) he hasn't shown that ability. His skating, although he has been working on it, is sub-par. He did gain some weight to sustain the hits he will receive in the NHL.
But...
This writer saw Strome in the dressing room recently, and when you match him up against Shane Doan's physique, he just doesn't look like a NHL size body.
We'll see how this transpires.
Tonight's game essentials
The Colorado Avalanche have a 3-3 record and have been playing some tough teams so far. In fact, their first 10 games are against playoff finishing teams out their first 15 games.
As expected the two players the Coyotes need to stop will be their two top scorers, Nate McKinnon, and Matt Duchene. They both have five points thus far, with Duchene leading the pack with three goals.
The Avs have been struggling to score, and the Coyotes need to take advantage of that, but need to tighten up their defense.
Losing two two-goals leads against the Flyers is something of concern which can be addressed with a better defensive effort.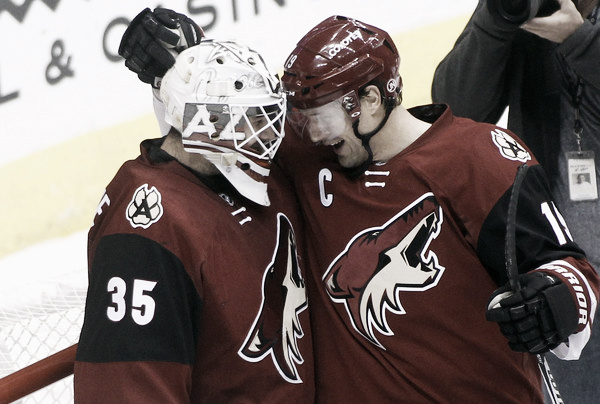 Louis Domingue will get the start and hope to play his best game thus far. He won't have to do much since his current statistics are far from impressive. With a .857 save percentage, and a 4.74 goals against average, he is due to put forth a better effort tonight.
The other key factor is Michael Stone's status after being hit hard by Brayden Schenn in the last period against the Flyers. He is a game-time decision but did practice this morning. Kevin Cannauton will be his replacement if he's not able to go.
Finally, the Av's will be playing back-to-back games, as they lost last night at home against the Winnipeg Jets, 1-0.