When Arizona Coyotes Head Coach/V.P. of Hockey Operations Dave Tippett was asked after his team suffered their fourth consecutive loss, if panic was setting in yet, he rejected that idea. He said the team knew it was going to be a tough road trip. Indeed it has been...one without a win. Yet.
Another day, another chance at a win
The thing with any professional sport is there's always another game to redeem yourself. The Arizona Coyotes are hoping to do that against the 2-2-1 New Jersey Devils Tuesday night. The Devils have some interesting team statistics so far this new season. They are dead last in goals scored with eight in five games, and first in goals against with just nine.
Contrast that with the Arizona Coyotes, who are 20th in goals scored (14), and 28th in goals allowed (21) in the NHL.
Last season over the first five games, the Coyotes were a much better 3-2, while scoring 16 goals, and giving up only 11. That statistic must be upsetting GM John Chayka's world, as he made some serious upgrades to his defense over the off-season.
So where's the defense?
He brought in Alex Goligoski, Luke Schenn, and even rookie Jakob Chychurn to solve the issue of a porous defense. So far, (it's still early) it hasn't helped. Last season about this time, the Devils pulled off a 3-2 overtime victory over the Coyotes. It's payback time now. A win tomorrow night will do wonders to improve the team's morale and standing...seeing how they are in DEAD LAST as of this writing.
It seems to be the Coyotes' fate of late. Falling behind in games causes you to play catch-up. It also forces you to take some chances, which can be costly. The same could be said about falling behind early in the season. With four losses already, winning the next two games on this road trip from a Halloween horror movie, are a must.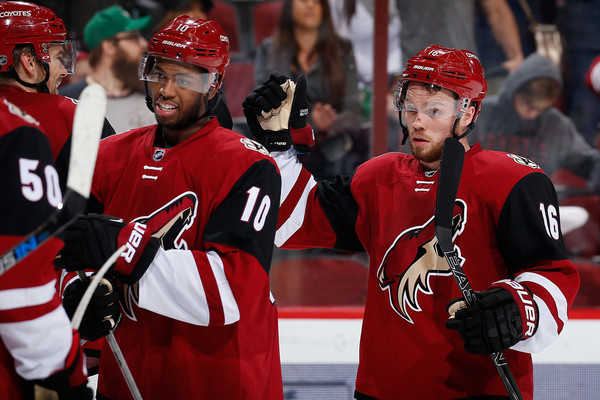 Where are the Killer D's?
Do all of you Coyotes' fans remember last season's first five games as far as how well the Killer D's did? Max Domi and Anthony Duclair were the talks of the league. How about Domi collecting three goals, three assists. Duclair tallying four goals, two assists. This season is dismal in comparison: Domi two assists, Duclair has been held scoreless. That's seven missing goals they've not provided this season just from these two promising young players.
That's gotta change if they want to be involved in post-season play. It doesn't seem possible that the rest of the league has figured out their moves already, does it?
Without their firepower and exuberance, the team's offense has hit a wall. Duclair had a hat-trick in the Coyotes' third game last season on the road in a 4-0 thrashing of the Anaheim Ducks. We've seen nothing close to that level of play so far this new season. There are five rookies on this squad, which can make a coach's hair gray quickly. It didn't help to already lose goalie Mike Smith in the team's second game.
What may be in their favor is that Jamie McGinn, who has been injured and unable to play so far this season, could be back for the Devils game. His gritty offensive play may be just what the doctor ordered to end this nasty losing streak.
One thing is for certain, the only way to break a losing streak is to play a game according to your game plan, and play hard. We all know that the Coyotes are capable of doing that, now they just need to prove it.