The losing streak is over, as the Minnesota Vikings have defeated the Arizona Cardinals 30-24.
Minnesota's (6-4) defense and special teams was the story of today's game; Arizona could not find an answer to the Vikings big plays. The Cardinals (4-5-1) would dominate in the first half but had a terrible second half, only accumulating have first downs in the half.
Big contributions from Vikings defense and special teams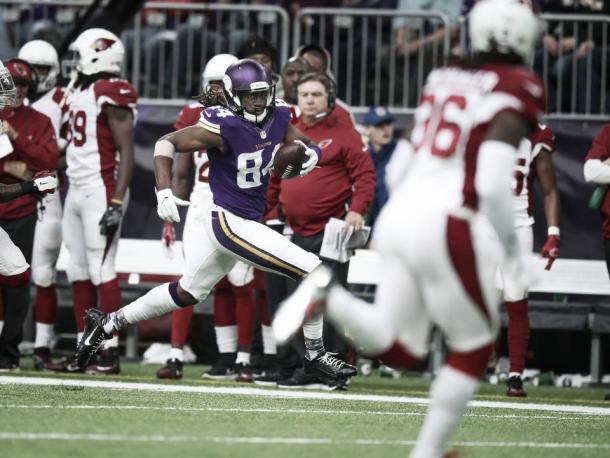 The Vikings defense had a huge game today that lead to their victory. Xavier Rhodes came up with two interceptions, returning one for a 100 touchdown. It is the longest interception for a touchdown in Vikings history.
The Vikings defense would hit Cardinals quarterback Carson Palmer 15 times in Sunday's matchup. Harrison Smith, Danielle Hunter, and Brain Robison would combine for four sacks, with Hunter sacking Palmer twice. Smith would make plays all over the field, coming up with 10 total tackles.
Cordarrelle Patterson had one of the game's biggest plays, scoring on a 104-yard kick return touchdown. Marcus Sherels had three punt returns for the game, with a big 23-yard return putting the Vikings in good field position. Vikings punter Jeff Locke dictated the game in a big way, punting the ball four times for 225 yards; his longest being 72 yards and pinned the Cardinals inside the 20-yard line twice.
Johnson and Fitzgerald still the only Cardinals offense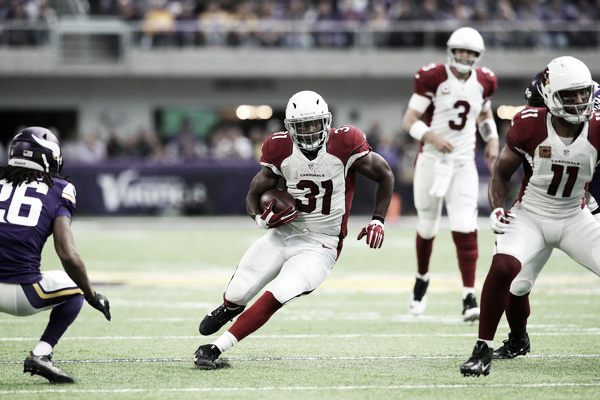 All season long, Cardinals running back David Johnson and wide receiver Larry Fitzgerald have given big contribution to the offense. Johnson would rush for 103 yards on 22 carries and rushed for a touchdown. In the passing game, Johnson would catch seven passes for 57 yards and a touchdown. Larry Fitzgerald would haul in six passes for 63 yards.
Jermain Gresham would have his biggest impactful of the season, catching two passes for 33 yards and scored a touchdown. Michael Floyd returned to being a non-factor for Arizona, catching two passes for 21 yards.
It is becoming more and more evident that Carson Palmer is not the same player from last season, going 20/38 for 198 yards, throwing two touchdowns and two interceptions. Bad decision making from Palmer has led to big mistakes such as the one that occurred in today's game.
Vikings offense shows light improvement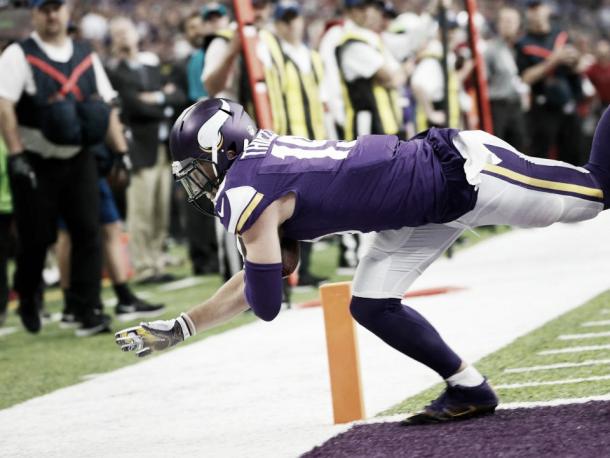 After switching offensive coordinators, the Vikings offense has shown some improvement. Sam Bradford went 20/28 for 169 and a touchdown on the day. Pat Shurmur has come up with plays that have enabled Bradford to get the ball out of his hands quicker, setting up second and short, third and short situations.
Adam Thielen had his biggest game of the season, securing five passes for 65 yards and a touchdown. Cordarrelle Patterson is one of the biggest benefactors of the quick pass, catching 4 passes for 53 yards. Cardinals cornerback Patrick Peterson did a great job taking Vikings receiver Stefon Diggs out of the offense, limiting Diggs to just 37 yards for the day.
The Vikings offensive line has some work to do, with three different starters on the line replacing injured players. The Vikings offensive line allowed six quarterback hits, with two sacks. Cardinals linebacker Chandler Jones would force a fumble off his strip-sack, being picked up by Arizona. That fumble would allow Arizona to get back into the game.
Going Forward
Looking ahead for the Cardinals, they will be on the road to take on the Atlanta Falcons. The Falcons will be fresh off their bye week. These last two teams last played against each other in 2014, with Atlanta being victorious.
As for the Vikings, they have a Thanksgiving date with the Detroit Lions. Both teams were victorious in Week 11, making their Week 12 match up a game for the division lead.