Coming off the bye week, the Arizona Cardinals (3-4-1) will have a lot to prove when they take on the San Francisco 49ers (1-7) Sunday afternoon at University of Phoenix Stadium.
Cardinals look to start their playoff run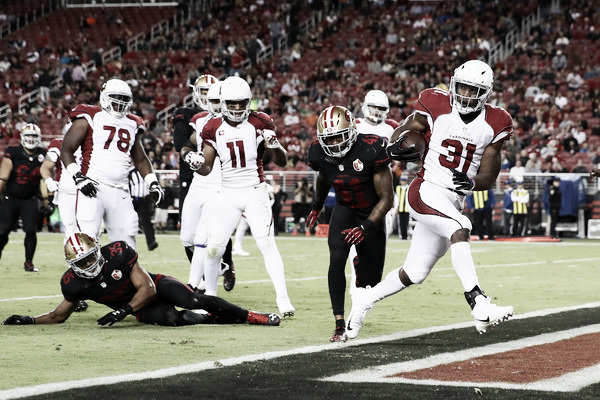 Coming into the season, everyone thought that Arizona would be one of the perennial powerhouses in the NFC. Many thought that they Cardinals could possibly represent the NFC in the Super Bowl.
So far that has not been the case. Special teams issues and poor play led the Cardinals to lose a couple of big games, including losses against the New England Patriots, Buffalo Bills and a tie with the Seattle Seahawks.
If Arizona wants to try and make a run for the playoffs, they will have to win a majority of their games, with room to only lose one out of their next eight. Looking at their schedule, five out of their next eight games will be on the road with matchups against the Minnesota Vikings, Atlanta Falcons and rematches with the Seattle Seahawks and Los Angeles Rams.
Next man up; a look at the injury report
The "next man up" moniker will be alive and well when the Cardinals take the field. Just before the bye, offensive lineman Jared Veldheer was placed on injured reserve with a torn triceps. Replacing him will be second year pro John Wetzel.
"I feel very comfortable with John," Cardinals head coach Bruce Arians told the Arizona media. "That's more of a comfortable spot for him, and he's tough and smart. Will he get beat? Probably, now and then. They all do. Jared did too, but he'll do fine."
Wetzel will be in charge of blocking San Francisco pass rushers Arik Armstead, DeForest Buckner, and Eli Harold.
Another big blow that the Cardinals will feel is the loss of Tyrann Mathieu, who is out three to six weeks with a shoulder subluxation. D.J. Swearinger will replace Mathieu at the safety position.
For San Francisco, outside linebacker Aaron Lynch will miss his second consecutive game with an ankle injury. Running back Carlos Hyde and wide receiver Torrey Smith were both limited during the week and are listed as questionable. Players set to play with injuries include Glenn Dorsey, Eric Reid, Zane Beadles and Nick Bellore.
Players to watch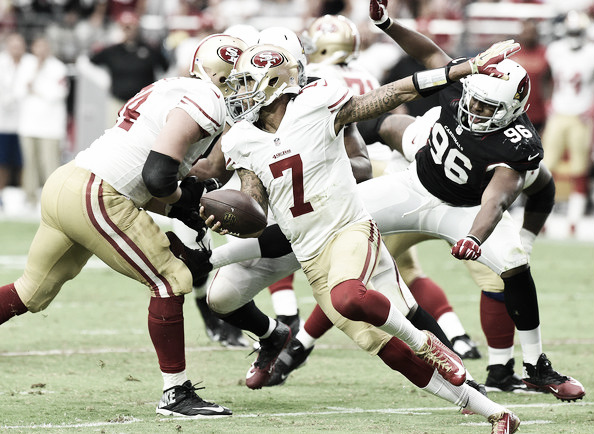 Last time these two teams squared off, the Cardinals offense featured plenty of David Johnson. In their week five matchup, Johnson rushed for 157 yards on 27 carries and scored two touchdowns. The 49ers have the last ranked rush defense in the league, Johnson could have similar success in the rematch.
Cardinals receiver John Brown looks like he is returning to his former self, catching nine passes for 103 yards and a touchdown in his last two games. Brown could open up things deep down the field for the emerging J.J. Nelson while taking pressure off of Larry Fitzgerald.
In week five of the NFL season, Colin Kaepernick was on the sideline. So when he returns to University of Phoenix Stadium, he will do so as the 49ers starter. He definitely has a chip on his shoulder and feels like he has something to prove.
"Last time we played down there, that was probably the worst game of my career that I can think of," Kaepernick told the media. "It's an opportunity to go down there and redeem myself, and also try to help this team get a win and get back on track; start by breaking our current losing streak and trying to get on a winning streak."
Former starting quarterback Blaine Gabbert ran for 70 yards against the Cardinals in week five. A healthier Kaepernick can do the same amount of damage if given the opportunity. It will be up to the pass rush to get to Kaepernick to prevent the big play.
Predictions
Even missing a couple of key pieces, Arizona is still the far better team. The rebuilding 49ers will do their best to keep themselves in the game, but a surging Arizona defense will prove to be too much for the San Francisco offense. Arizona could take advantaege of a injured 49ers defense.
Cardinals 28, 49ers 17