The New England Patriots came into today's National Football League match up knowing that they would be facing a Pittsburgh Steelers side missing its leader and franchise quarter back Ben Roethlisberger due to injury. The Patriots took advantage of Roethlisberger's absence to pick up a 27-16 win over the Steelers and improve to a 6-1 record this season.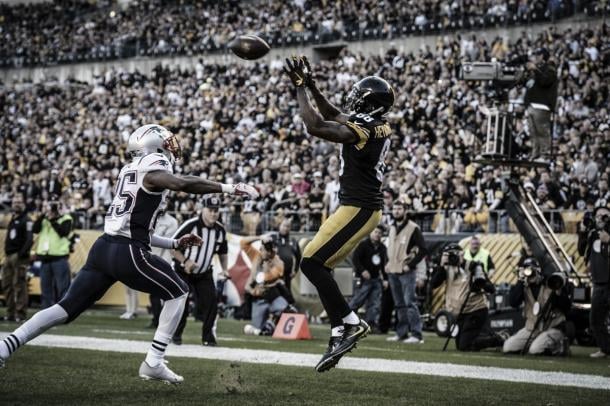 The Steelers try to keep pace in the first half
The Steelers spent most of the first half playing catch-up to the Patriots, who managed to score two touchdowns to go into half time with the lead. A 19 yard touchdown pass by Tom Brady to James White and a five yard run by LeGarette Blount pushed the Patriots forward and helped them overcome lost fumbles by Julian Edelman and Chris Hogan. Blount would end the day with 127 rushing yards and two touchdowns in another solid outing.
The Patriots defense were also on their A-game today -- they took advantage of Steelers' backup quarterback Landry Jones. Although they gave up a 14 yard touchdown to Darius Heyward-Bey and allowed Antonio Brown to rack up another 100-plus receiving yard game, the defense stayed strong and prevented the Steelers from reaching the end zone on too many occasions. An interception by cornerback Malcolm Butler in the second quarter emphasized how well the Patriots' defense was reading Jones and preventing the Steelers from marching down the field with big plays.
Gronkowski breaks the game open for the Patriots
The second half was all about the connection between tight end Rob Gronkowski and Brady. Gronkowski will win almost every one-on-one battle, and the Patriots used his athleticism to great effect as they made sure to line him up against the Steelers' smaller corner backs. The tight end had two big plays, one for 37 yards and one for 36 that resulted in a touchdown. Gronkowski also helped Brady reach 222 passing yards with no interceptions against the Steelers, giving him a sure target to convert some of the 21 first downs that the Patriots racked up against the Steelers.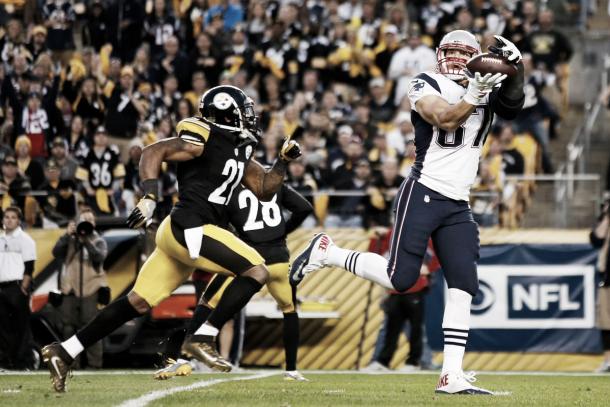 The Steelers defense did manage to get to Brady on occasion, but their secondary was vulnerable to the likes of Gronkowski and Edelman, and their run defense had no answer to Blount. That, and the inability of the Steelers offense to get many drives going and kicker Chris Boswell's field goal misses at critical moments in the game, put a lot of pressure on the Steelers defense. They eventually were worn down by the Patriots methodical offensive play. All of this led to a relatively straight forward win for the Patriots and a 4-3 record for the Steelers, who will be hoping that Roethlisberger will return quickly before their season takes a turn for the worst.