It was late in the fourth quarter. Virginia quarterback Kurt Benkert was forced to scramble yet again. He has already made some big plays on the run in the game, and threw yet another deep ball to try to convert on this 3rd and long situation. He threw across his body towards the middle of the field, but for the second drive in a row, he found a Wake Forest defender. Jessie Bates III took the pass back and dove into the end zone to give Wake Forest a 27-20 lead late in the fourth. A lead they would not relinquish. As a result, Wake Forest is bowl eligible for the first time since 2011
John Wolford Responds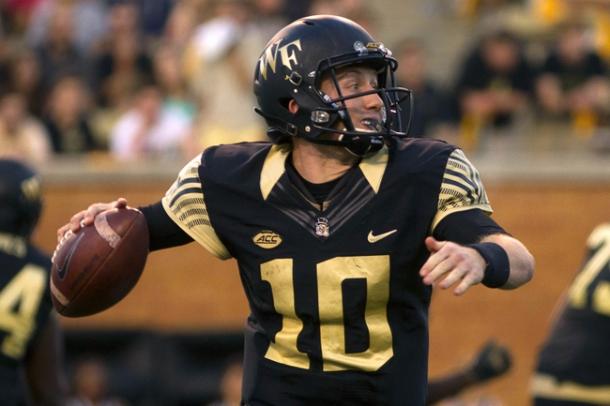 After two tough weeks, Wake Forest's quarterback was at a new low for the season. He silenced the critics with an efficient performance tonight. John Wolford ran for over 100 yards and scampered for a 64 yard touchdown in the first half. He did not have to pass much, but was accurate when he was needed.
Late in the second quarter following a Virginia fumble, Wolford led the Deacons on a touchdown drive. He went 3 for 4 and found Cam Serigne on an out route with 23 seconds in the half to give the Deacons a 17-6 lead. He would finish the game 9 for 10 for 83 yards passing and 2 touchdowns (1 rush, 1 pass).
Turnovers cost Virginia
There are three plays that QB Kurt Benkert will want back. A bad exchange on a fourth and short attempt and two fourth quarter interceptions. Wake Forest scored 17 of their 27 points off of Virginia turnovers. When the field was shortened, the Demon Deacons took advantage. The simple fact is that Wake Forest protected the ball and the Cavaliers were careless with it.
Had Virginia not turned the ball over so much, they may have won the game. Benkert made some impressive passes and Taquan Mizzell had 159 all-purpose yards. Wake Forest had a struggling offense going into the game, but with a short field, gained confidence and capitalized. Virginia coach Bronco Mendenhall said after the game, "The difference in the game, in my opinion, was ball security and takeaways."
Wake Earns Bowl Eligibility
The third time was the charm. After two defeats, Wake Forest finally earned that elusive sixth win, which can help the program move even further in the right direction. Coach Dave Clawson said after the game, "This gives us recruiting momentum, this gives us program momentum."
In a game where the momentum swung back and forth, Wake ended on the right side of it and now can look to spoil Louisville and Clemson's college football playoff hopes. The Deacons have some relief from overcoming that obstacle and will have little pressure and that could be problematic for the Cardinals and Tigers in the coming weeks.