The Boston College Eagles (3-4, 0-4 ACC) entered Saturday's contest against the Syracuse Orange (4-4, 2-2 ACC) touting the fourth-ranked passing defense in the country.
Don't tell that to Orange quarterback Eric Dungey.
Eric Dungey solidifies gun-slinging reputation
One of the nation's most electrifying passers, Dungey completed 32 of his 38 pass attempts for 434 yards, three touchdowns, and an interception, leading Syracuse to a 28-20 victory over the Eagles, their second straight triumph. Despite being faced with 16 penalties for an astounding 135 yards, the Orange recovered on the basis of their passing attack.
"This team is becoming something special," said Dungey. "People are really starting to buy in."
"I'm proud about Eric, he handled the weather a lot better," said Syracuse head coach Dino Babers. "On some of the deep throws I thought he threw the ball extremely well. He's getting better all the time. He's come a long way from when he started." "They were so heavy in the box, it would be a little foolish not to throw the ball as much as we did."
Future mid-round draft pick Amba Etta-Tawo became the fourth Orange wide receiver to eclipse 1,000 yards in a season, garnering 10 catches for 144 yards and a stunning touchdown. Steve Ishmael grabbed eight passes for 108 yards and a score, Brisly Estime caught five balls for 93 yards, and Ervin Philps recorded seven grabs for 78 yards and two touchdowns of his own, one through the air and one on the ground.
"They were so heavy in the box," said Babers about the team's focus on establishing the passing game. "It would be a little foolish not to throw the ball as much as we did."
Dungey also led his team in rushing, scrambling 17 times for 54 yards.
Boston College quarterback Patrick Towles outgained Dungey on the ground, gaining 104 yards and a touchdown on 10 carries. However, his atrocious 4-for-14, 45-yard, one interception performance in the passing game paled in comparison to his counterparts. Eagles running back Davon Jones picked up 66 yards on 14 carries as the team outgained the Orange 223-98 in the rushing attack, but Boston College's ineffectiveness through the air proved fatal to the team's efforts.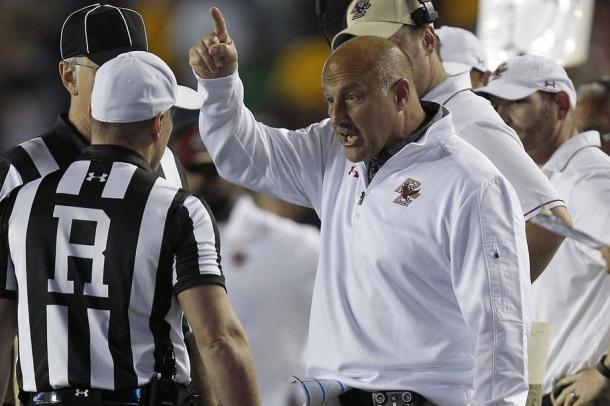 With the field slicked due to a swirl of rain, the game began with a 21-yard sprint by Dungey into BC territory. However, the drive stalled when Eagles strong safety William Harris intercepted Dungey's deep ball and returned it 60 yards deep in Syracuse territory. An unsportsmanlike conduct penalty on Dungey brought Boston College into the red zone. Despite the favorable field position, Towles' troops were unable to capitalize, but kicker Mike Knoll found the uprights from 30 yards out to give the Eagles a 3-0 lead with 11:37 left in the first quarter.
Dungey puts Orange on the board
Dungey responded on the following drive, finding Ishmael for a 39-yard completion on a third-and-10. Dungey then hit Ishmael for a 15-yard gain to set the Orange up within the red zone. A defensive holding call on third down continued the drive into goal line territory, and Dungey found Philips on a backwards screen pass from three yards out to make it a 7-3 game with 7:15 left in the first.
A 27-yard punt return by Estime gave Syracuse excellent field position inside Eagles territory to begin their subsequent possession, and Dungey obliged by hitting Etta-Tawo for a first down immediately. However, Dungey mishandled a snap on third-and-one, and Boston College strong side linebacker Matt Milano scooped it up for a turnover.
As the second quarter progressed, Dungey took off on a 31-yard scramble before hitting Etta-Tawo for a first down inside the Eagles 25-yard line. Then, on third-and-five from the 10-yard line, Dungey found Philips open on a slant pattern over the middle for his 12th passing touchdown of the season, bringing the lead to 14-3 with 10:46 left in the first half.
Myles Willis was intent on keeping the Eagles in the contest, however, taking the ensuing kickoff 89 yards for a touchdown, his third career return score. This lessened the Boston College deficit to 14-10. Dungey picked up immediately where he left of, though, hitting Estime down the sideline for a 35-yard pickup to bring the Orange within Eagles territory.
Despite the encouraging drive, Syracuse kicker Cole Murphy's attempt at a 40-yarder sailed wide left, setting up Jones for a 26-yard rushing attempt on Boston College's subsequent play. Towles' first-half struggles continued, however, as he mishandled a snap near midfield and turned it over to Syracuse strong side linebacker Jonathan Thomas.
Dungey, who tossed for 203 yards in the first half, picked up right where he left off to begin the third quarter, finding Philips over the middle for a gain of 29 yards. However, Eagles defensive end Harold Landry sought out Dungey for a sack on third down, concluding the scoring threat.
Crucial gaffe by Walker costs Eagles chance at lead
This energized the Eagles, as wideout Michael Walker proceeded to gain 19 yards on an end-around run. Then, Towles found Walker on a 17-yard completion on third-and-nine to bring Boston College inside red zone territory. The drive stalled abruptly, however, as Walker mishandled a pass that would have led to surefire first down inside the five-yard line. The ball was intercepted by Syracuse weak side linebacker Parris Bennett, who returned it to the Orange 14-yard line.
Dungey, motivated by the newfound momentum, then found Estime for a 31-yard gain to begin the ensuing drive before hitting Ishmael for another first down. A roughing the passer call moved the Orange within the red zone, and Dungey found Ishmael on a jump ball in the back corner of the end zone for an 11-yard touchdown to give Syracuse a 21-10 advantage with 15 seconds remaining in the third quarter.
Towles leads team back into contention
Despite facing an intimidating deficit, Towles injected some critical life into his team on the following possession. On second down, Towles executed a brilliant fake to running back Tyler Rouse before pulling it himself and rushing 75 yards up the left sideline for a rushing touchdown, shortening the gap to 21-17 with 15 minutes remaining.
Towles then hit Walker for 17 yards to begin the next drive, and Jones proceeded to pick up 11 yards on the ground. A defensive holding penalty then set up Knoll for a 39-yard field goal, decreasing the deficit to 21-20 with 10 minutes remaining.
Etta-Tawo reinforces advantage with incredible catch
Dungey responded with an 18-yard rush to commence the Orange's following possession before lofting up a deep ball to Etta-Tawo down the sideline on the very next play. Etta-Tawo proceeded to grab the ball with his left hand, shove off a defender, and jog into the end zone for a momentous 68-yard touchdown to give Syracuse a 28-20 lead with 9:18 left.
"Amba's catch was like...wow," said Babers. "Amba is up there. I've coached great receivers in the NFL, but he's in the top ten."
The Orange then picked up a crucial first down with six minutes remaining after holding Eagles backup quarterback Darius Wade to a three-and-out on his first possession in the contest. Dungey hit Estime for a gain of 14 yards on third down near midfield, keeping the clock running for Syracuse. However, on a subsequent third down, Dungey coughed up the football, the fumble recovered by defensive end Kevin Kavalec in Orange territory.
Wade then connected with wideout Charlie Callinan for a first down before a facemask penalty moved the Eagles inside the red zone. However, Wade proceeded to be swallowed up by defensive end Josh Black on a second-down opportunity with 2:30 remaining, putting Boston College in an unfavorable position. On fourth-and-14 from the Orange 18-yard line, Wade sailed a pass over the head of Callinan in the end zone, allowing Syracuse to take over possession and ice the ballgame.