Last season, the Army Black Knights found themselves in several hard fought games, but the results seemed to end up the same. They ended the season 2-10, which was disappointing for the talent they had. It was more of the same for the program, who has managed only one winning season in the last 19 years. With head coach Jeff Monken entering his third season, the team has hoped to see improvements, but a good season would still be unexpected.
That was until Opening Weekend.
Last Friday, Army traveled to Philadelphia to take on the Temple Owls, a 10-3 team a year ago who played in the American Athletic Conference Championship last year. After being down 10-7 as the half, Army battled back with a superior ground game in the second half, and dominated the fourth quarter on their way to a 28-13 upset. For Monken, the game showed him exactly what he wanted to see.
"It's a measuring stick," Monken said, "When you play a team that won 10 games, won a bowl game, played for a conference championship -- that's a huge win for us."
The Black Knights were lead by Andy Davidson, a linebacker-turned-fullback, who had 121 yards and 2 touchdowns on 22 carries. If Davidson continues to pound the football like he did, he could turn out to be Monken's X-factor.
"Andy was a great addition for us to move from linebacker," Army coach Jeff Monken said. "He's one of our best football players. I'm glad we made that move with him."
Overall, Army racked up 329 yards of total offense against a Temple defense that was ranked number one in the American Athletic Conference a year ago, a sign that the triple-option offense is working at West Point as long as the offensive line remains healthy.
Looking For Revenge Against Rice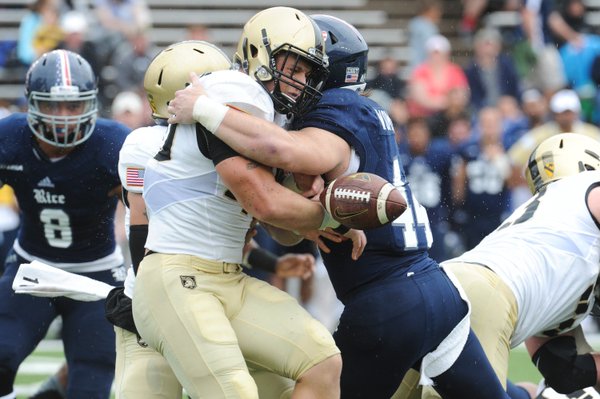 Last season, Army lost seven games by 7 or fewer points. One of those games was against the Rice Owls, who scored a last minute touchdown to defeat the Black Knights by a score of 38-31 in Houston. This time, with the game being played at West Point, Army is looking to extract some revenge.
Army enters in a position they have rarely seen in recent years - as a favorite. This is due in part to Army's upset over Temple, as well as Rice's 46-14 dismantling at the hands of conference foe Western Kentucky. Rice gave up 552 yards in the air against the Hilltoppers, and while Army quarterback Ahmad Bradshaw is unlikely to take too many shots in the air, the more worrisome issue Rice faces is their offense. Quarterback Tyler Stehling threw two interceptions, and the offense barely managed 100 yards on the ground on 33 rushing attempts. The Owls will be going up against a tough Army defense, who will look to get pressure on Stehling early and force some bad throws.
Army will likely not deviate from their triple-option run heavy offense, but Bradshaw could find some open receivers if he were keen to air it out some. Wide receiver Edgar Poe has proven to be a reliable receiver for Bradshaw, especially in late game situations, and could give the Black Knights another weapon on offense if they choose to utilize it.
Army will have to make the most out of their home games this season, as they only won once in Michie Stadium last season. After the game against Rice, Army hits the road for three straight road games. Their first two games, against UTEP and Buffalo, are winnable. Coach Monken knows, however, that the first step is an incredibly important one, and the game against Rice will not be easy.
"Rice has a great and talented football team." Monken said in this week's press conference. "It is a team that we have struggled against in the past."
If Army were to beat Rice, however, it could give the fan base a lot of hope that this season will turn out much different than the last.