The Atlanta Hawks showed why they are one of the league's top ranked defenses in the win over the Indiana Pacers on Wednesday night. After losing three consecutive games to the Charlotte Hornets, New York Knicks and New Orleans Pelicans, the Hawks played a much more organized and efficient game in Indianapolis.
They held the Pacers to just 85 points on 41 percent shooting, and star forward Paul George struggled to find his rhythm after missing the past three games. This was also the first meeting between Jeff Teague and the team that drafted him in 2009. The Hawks traded the former Wake Forest point guard for the number 12 overall pick in this year's draft, which turned out to be Baylor forward Taurean Prince. Teague had a rough night in this one, while Prince is beginning to flash the skills that have garnered him countless comparisons to former Hawk DeMarre Carroll.
An Early Feast for the Hawks
Big men Dwight Howard and Paul Millsap had big-time performances in the paint, as second-year center Myles Turner was unable to consistently guard and box them out. Howard finished with an impressive stat line of 23 points and 20 boards on 10-12 shooting, while the always-versatile Millsap contributed in multiple categories. He put in 18 points with 11 rebounds, five assists, four steals and three blocks. When the Atlanta frontcourt is clicking like this, they are a very difficult team to handle, and it seems like the chemistry is really building between the two.
Lights-out shooter Kyle Korver did not travel to this game in order to rest up for the remainder of the road trip, but the Hawks managed to score in different ways. Veteran Thabo Sefolosha started in his place and provided some good defense on Paul George, while Kent Bazemore once again struggled on the offensive end. Point guard Dennis Schroder has also been battling inconsistency, and it showed again in this one. He turned the ball over four times and dished out just two assists. Malcolm Delaney provided solid minutes again as the backup, but Schroder must continue to gain confidence if he is going to lead this team on a deep playoff run.
Off Night for George, Teague
All-star Paul George is usually a staple in this Pacers lineup, but he struggled against the Hawks shooting just 6-22 for 18 points. Part of this had to do with the fact that he missed the last three games with an ankle injury and was a bit rusty throughout the game. The aforementioned Teague also shot the ball poorly, making it very difficult for Indiana to compete. Their bright spot was undoubtedly Thaddeus Young, who poured in 24 points and seven rebounds. The former Georgia Tech standout is a notoriously effective player against the Hawks, and he always seems to elevate his play in those games. Monta Ellis was also decent, adding 19 points on 8-16 shooting.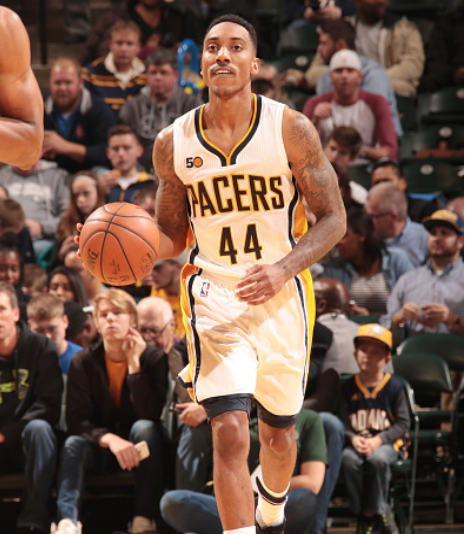 Next Up
The Hawks take their travels out west to face former Hawks assistant coach Quin Snyder's squad, the 7-8 Utah Jazz on Friday. Derrick Favors is out as he deals with a lingering knee injury, but Gordon Hayward recently returned and will lead the charge against a solid Atlanta defense.
The Pacers have a slightly easier task, as they host the 4-9 Brooklyn Nets on the same day. While the Nets have been a little better than advertised, they don't have the same firepower as Indiana and will have a hard time containing a hungry Paul George.