The Phoenix Suns (3-9) have now dropped three games in a row after losing to the Denver Nuggets (4-7) 120-104 on Wednesday night at the Pepsi Center in Denver.
For Denver, they snapped their four game losing streak.
At one point in the game, the Nuggets biggest lead of the night was 20 points. The Suns tried to climb their way back into the game, at one point only trailing by seven points in the fourth quarter.
Denver outplays Phoenix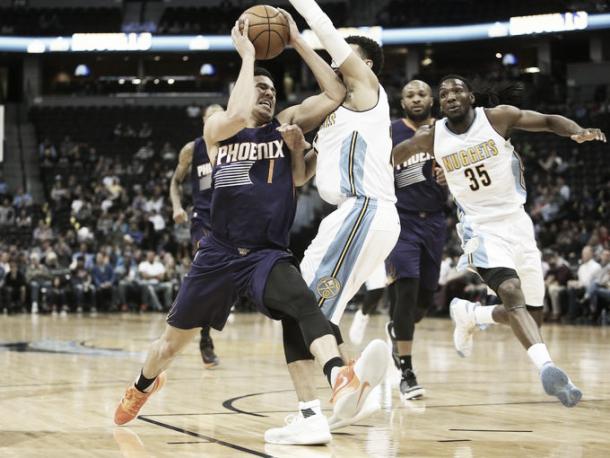 From the opening tip, Denver set the tempo of the game. The Nuggets dominated the paint, scoring 56 points in the paint and outrebounded the Suns by 14.
Kenneth Faried scored a season-high 20 points, 15 rebounds, four steals and a block. Wilson Chandler had a big game for Denver coming off the bench, scoring 28 points, grabbing 11 rebounds with five assists, one steal and one block.
Missing tonight for Denver was starting guard Gary Harris, who is out for a foreseeable amount of time with a foot injury. He could possibly return in December. Emmanuel Mudiay and Jameer Nelson combined for 32 points and eight assists at the guard spots.
Devin Booker scored 24 points for the Suns, also dishing five assists and recording three steals. Booker was ejected with 17.8 left in the game after receiving his second technical foul. Tyson Chandler returne for the Suns tonight, grabbing five rebounds and recorded two blocks. Eric Bledsoe had a rough night, only scoring eight points with six turnovers.
Suns bench struggles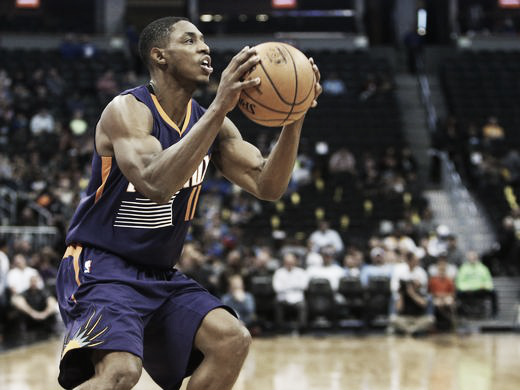 Other than Brandon Knight, the Suns bench struggled. Knight scored a season high 32 points, dished four assists and had four rebounds. The rest of the Suns bench combined for only 25 points.
Suns head coach Earl Watson has taken notice of bench issue. The Suns bench is so thin that they are looking at contributions from different players hoping for a spark plug. Alex Len is one of the bench players that Watson would like to see more consistency from. Dragan Bender and P.J. Tucker were both held scoreless but contributed 10 rebounds.
Up Next
The Suns will continue their six-game road trip against the Indiana Pacers on Friday night. The Nuggets will continue their four-game homestand Friday night against the Toronto Raptors.