The Atlanta Hawks improved to an impressive 7-2 record over the 1-8 Philadelphia 76ers on Saturday night, led by the red-hot shooting of Tim Hardaway Jr. The 76ers were coming off their first win of the season, an overtime victory over the Indiana Pacers, and thus came out flat in Atlanta. Adding to the Sixers' situation, their young prospect Joel Embiid was forced to sit out as he continues to rehab the knee injury that cost him the past two seasons.
The Hawks struggled on the offensive end in the first quarter, turning it over nine times, but regrouped with a strong second. They also showed the defensive prowess that had seemed to slip away over the past few games, holding their opponent under 100 points.
Winning as a Unit
The Hawks once again proved that their system of team basketball works, with six players scoring in double figures. Most surprising of all, All-Star forward Paul Millsap was not one of them - he shot just 3-10 on the way to six points, four rebounds, and three assists. It is important for the Hawks to find production from other areas when Millsap struggles, and they did just that tonight. Fellow big man Dwight Howard had a nice game, scoring ten and grabbing 11 boards. Kyle Korver, Kent Bazemore, and Dennis Schroder also contributed in several departments, with the point guard Schroder dishing out eight assists to add to his 16 points.
As has been the case to start the season, the Hawks' bench play was key in the team's victory. In addition to Hardaway Jr.'s five three-pointers, Kris Humphries scored 13 points in his best outing of the young campaign. 27-year-old rookie point guard Malcolm Delaney also showed that he is here to stay in the NBA with a well-rounded performance.
Still Processing
When these two teams met a couple of weeks ago, young center Joel Embiid gave Sixers fans hope and kept the game interesting for a good chunk of time. Unfortunately, on the second night of a back-to-back, he was unavailable to suit up. This put the team in a tough spot, and it really showed on the offensive end. Another young piece in the frontcourt, Jahlil Okafor, led the team with 18 points but didn't get much help. European rookies Dario Saric and Sergio Rodriguez had decent stat lines, and Nik Stauskus chipped in 12 points in the losing effort.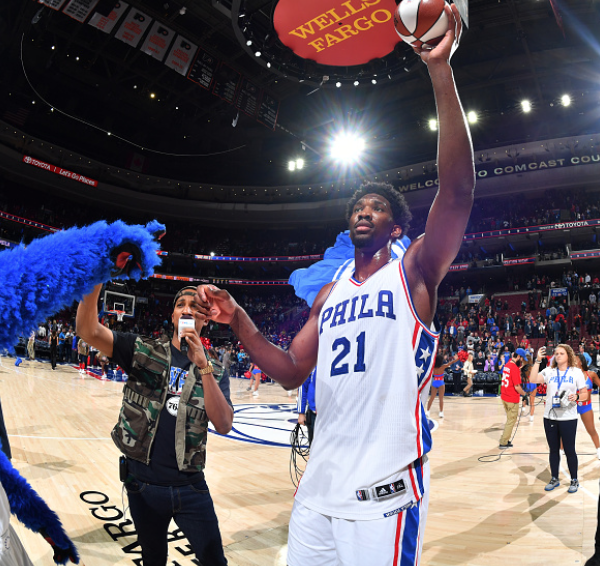 Next Up
Philadelphia is back in action Monday night at the Houston Rockets on NBATV. It will be a challenge to contain newly-transformed point guard James Harden, but if the previously mentioned Embiid plays it will be a major boost in the paint.
The Hawks travel to Miami on Tuesday night to face a Heat team that looks very different without the future hall-of-famer Dwyane Wade. It won't be easy for Hassan Whiteside, who will have to deal with the interior defense of Dwight Howard and Paul Millsap.