The reigning NBA Finals MVP, LeBron James, passed basketball legend and Hall of Famer Hakeem "The Dream" Olajuwon for the number 10 spot on the NBA's all-time scoring list. James, playing his 993rd career game, passed the 26,946-point mark Saturday night on the road against the Philadelphia 76ers. The points came on a fastbreak layup midway through the first quarter.
James moved within one basket of passing Olajuwon in the Cleveland Cavaliers' Thursday night win against the Boston Celtics, hitting 30 points to advance to a career total of 26,945. James, 31, is in his 13th season in the league and has been a threat on the offensive end of the court since his rookie season.
Career Overview
For his career, James has averaged just over 27 points per game. Just five games into the 2016-17 season, James is averaging 22.4 points per game, which happens to be his lowest average since his rookie season. James, however, is also averaging nine rebounds and 10 assists a game, nearly notching a triple-double average early in the season.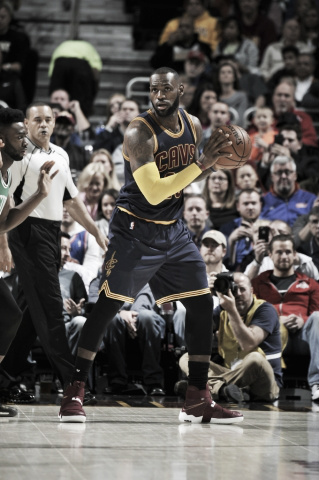 Olajuwon played 18 professional seasons, logging 1,238 total career games, averaging 21.8 points per game for his career.
James recently became the youngest player in NBA history to score 26,000. He is steadily making his way towards the 27,000 career points mark, which he will likely surpass this season, considering his previous season scoring totals.
Chasing Legends
As James continues his strong start to the season, he will look to close in on many other legends on the all-time scoring list including the number nine Elvin Hayes, 27,313, and number eight Moses Malone, 27,409. The only other active NBA player in the top 10 all-time scoring list is Dirk Nowitzki, who sits at sixth all-time with 29,527 points according to ESPN.
After bringing the Cavaliers their first franchise championship, James looks to continue to build his legacy as he chases the remaining legends towards the top of the all-time scoring list. The prevailing NBA champion Cavaliers currently stand at 5-0, before the close of the Philadelphia game, being the only undefeated team left in the league this season. Cleveland hopes to continue their winning season against the Atlanta Hawks on Tuesday, Nov. 8.