The Atlanta Hawks improved to 3-0 on the season with a closely contested win against the 2-2 Sacramento Kings on Halloween night. It wasn't easy for Atlanta, who despite turning in another solid defensive performance, turned the ball over 13 times themselves. Luckily for them, both Rudy Gay and DeMarcus Cousins dealt with foul trouble throughout the second half and sent Atlanta to the line an astounding 47 times.
Scary Good Defense
Coming into the game, the Hawks were first in the NBA in points allowed and opponent field goal percentage, and they had another nice showing in this one. Forward Paul Millsap flashed his usual versatility, grabbing fourteen rebounds and adding 13 points, eight assists and three steals. Dwight Howard led the team in scoring with 18, but shot just 8-20 from the free throw line. This is obviously still an area of concern, but it should be lessened with the implementation of the new "Hack-A" rules this season.
Like usual, Atlanta's system of team basketball allowed other to get in on the scoring action. Dennis Schroder and Kyle Korver both contributed 17 points, while Kent Bazemore put in 11. Mike Muscala also continued his hot streak off the bench with ten more points added to his tally. It's been a very strong start for this Hawks team, although they have yet to face a playoff team from last season. Even so, it looks like the top-five defensive team from last season got even better in that area and is no pushover on the offensive side of things.
The Enigmatic Boogie Cousins
The Kings' night was summed up by the performance of their star player, DeMarcus Cousins, who put up just 14 points and 12 rebounds while committing five personal fouls. Whenever they were able to make a run and close the gap, silly mistakes helped build it back up again. Although they hung with the Hawks for a good three quarters, the fouls and turnovers caught up to them in the end. The aforementioned Gay led the team with 22 points but also had five fouls, while hot shooting from veteran Matt Barnes kept things close.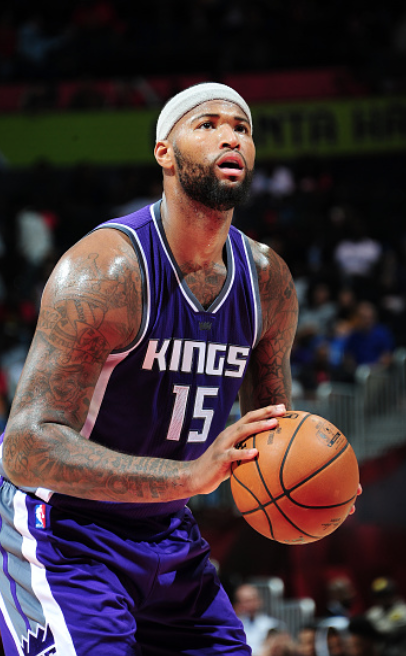 What's Next
The Hawks will remain at home for a Wednesday tilt against the always popular Los Angeles Lakers. The electric young backcourt of D'Angelo Russell and Jordan Clarkson will look to cause problems, while Howard will hope to wreak havoc on his former team. Mike Scott will remain out for this game and for at least another month with a knee injury. The organization waived young center Walter Tavares and signed a more polished Ryan Kelly to fill the void in the meantime.
Sacramento has a quick turnaround, traveling to face the Miami Heat on Tuesday night. Both franchises are anchored by their centers, with Hassan Whiteside giving Heat fans reason to be optimistic. He will look to establish himself in the paint like Howard and Millsap did for Atlanta tonight.