By now, it would be hard not to see Kawhi Leonard as an elite basketball player.
Without LaMarcus Aldridge -- resting on the bench with a sore knee -- The Claw was ready to guide his teammates to a win in South Beach. Leonard continued his splendid early season with 27 points, six rebounds, and two assists. In 30 minutes, he was the San Antonio Spurs' most effective player -- Kawhi's plus-12 was a game-high.
Leonard had his fair share of help, too. Pau Gasol (20p/11r/3a), Patty Mills (18pts in 25 mins), and Dwayne Dedmon (9p/8r/plus-6) had solid games. On a particular night when the Spurs' backcourt struggled -- Tony Parker and Manu Ginobili combined for 9 points and seven turnovers in 50 minutes -- an always robust bench lifted the Spurs on a Sunday evening in Miami.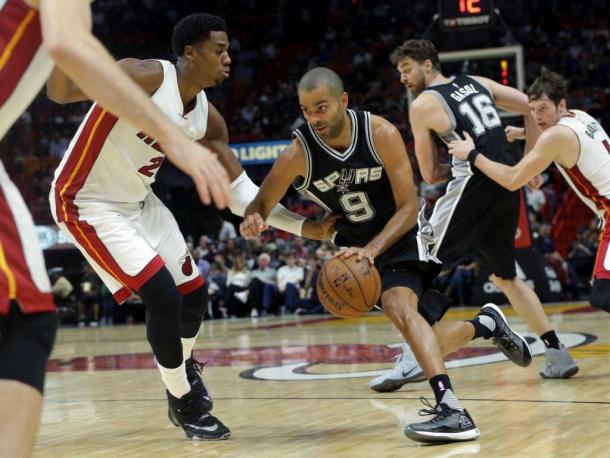 New kids on the block
The old Miami Heat monarchy is gone, and tonight's loss showed hardships -- and delights -- to come. Hassan Whiteside stuffed his stat sheet (27p/15r/4blocks), Justise Winslow waved his tree-branch arms all over the place (18p/5r/2a/2steals), and Goran Dragic was efficient and precise (25p/5r/3a/2turnovers/9-17 FG).
The Heat shot well (46%) and successfully nibbled at late Spurs leads, but failed to supply the savvy, game-winning basketball bites which veteran teams like San Antonio do so well. Miami was out-rebounded by eight -- all of them offensive boards -- and the shot just 69% from the foul line.
Leonard, on the other hand, went 10-for-12 from the charity stripe alone. Charging and gliding his way to the hoop, Leonard did what today's stars do best -- he earned his points, and closed out the final 3 minutes with 10 of them.
Pop 'till ya drop
Before the game, Spurs coach Gregg Popovich told reporters that LaMarcus Aldridge would not play on Sunday -- and for good reason, too! Pop declared knee soreness, topped with a stretch of four games in six days, was behind Aldridge's day off.
Even so, Pop, as always, pulled out the tricks. He received solid games from Dwayne Dedmon and Jonathon Simmons off the bench, and even gave Davis Bertans a long look at NBA minutes. Bertans, a silky Latvian small forward, was drafted in 2011 by the Indiana Pacers, only to stick around in Europe instead. A three-time Serbian League champion, Bertans, 23, had some tremendous moments overseas, including a leaning, game-sealing three against Real Madrid.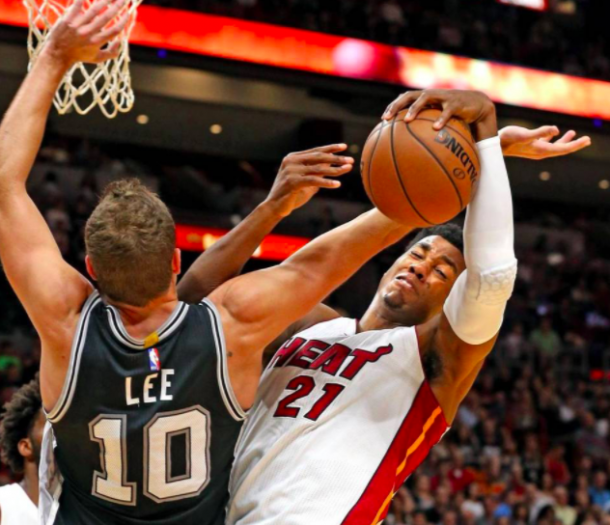 Close to comfort
Though the Spurs hung on against Miami, they let their leads slide a bit. San Antonio was up by as much as 16 tonight, while Miami's largest lead was only three points.
Unlike Miami, the Spurs' minutes were well divided -- no one played more than Pau's 31. The home team, however, had five players stock up 30-plus minutes -- Dragic, Whiteside, Winslow, Dion Waiters, and Tyler Johnson. A testament to the changing times in South Florida; Miami no longer runs as deep as in the past. By April, they may be running ragged instead.
Up next
Both teams head back to the hardwood on Tuesday night -- and both at home. San Antonio, still undefeated, hosts the Utah Jazz, and the Heat take on the Sacramento Kings, who they have beaten 14 straight times at home.