It was smooth sailing for the Atlanta Hawks as they improved to 2-0 on the young season by defeating the Philadelphia 76ers 104-72. Paul Millsap once again led the way for the Hawks with 17 points, four rebounds and four assists while Joel Embiid was a bright spot for the Sixers, netting 14 points in just 15 minutes. Atlanta controlled the game from the onset and pulled away thanks to some big shots by veteran wing Kyle Korver, who finished with three three-pointers and 15 overall points.
Team Basketball Prevails
Coach Mike Budenholzer had the ball moving around the floor, leading to five different Hawks scoring double figures. In addition to Millsap and Korver, point guard Dennis Schroder compiled a double-double of 11 points and 11 assists. While he has looked a little shaky with the ball at times, he should begin to settle into the starting job with more time on the court. The Hawks' bench was a major key to success for a second game in a row, with Thabo Sefolosha once again contributing on both ends and putting up 11 points and four rebounds. Center Mike Muscala shot 7-8 from the field on the way to 14 points and one of the most efficient games of his short career.
It was a tough night for the hometown signing Dwight Howard, who dealt with early foul trouble and scored just one bucket while grabbing seven boards. The former undrafted forward Kent Bazemore also struggled, shooting just 4-11 and turning it over three times.
The Process...Still in Process
The 76ers have gotten off to another rough start to begin the year, as they have been hit with unfortunate injuries to some of their most promising talents. Number one overall pick Ben Simmons is out for several more months after fracturing his foot, while Nerlens Noel hasn't suited up this season either. Last year's number three pick Jahlil Okafor remained on a minutes limit in this game, putting up eight points and four boards in 15 minutes.
However, the future is still bright for this organization, as another man on a minutes limit showed the variety of skills he brings to the table. Former Kansas big Joel Embiid again had an impressive outing, showcasing his ability to score in the post, hit an outside jumper and play stellar defense at the rim. He is a special talent, and the Sixers will likely end up trading either Okafor or Noel to free up some playing time and build depth at other positions. Also putting up some nice numbers against the Hawks were PG Sergio Rodriguez with 14 points and F Richaun Holmes with 10 points, six rebounds.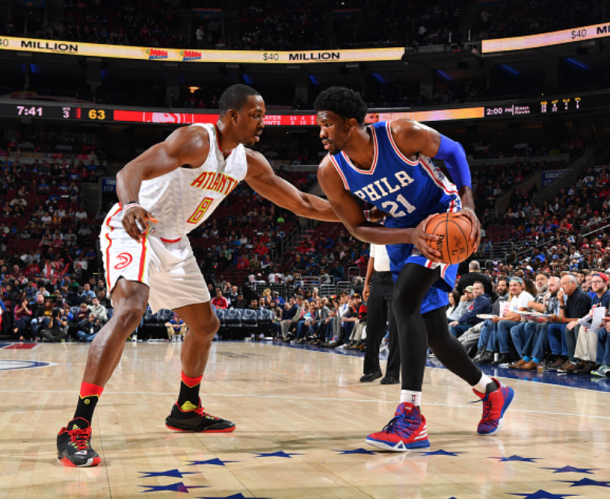 Coming Up Next
The Hawks are back at home on Halloween night to face the 1-1 Sacramento Kings, while the 76ers stay home to face a struggling Orlando Magic team on Tuesday night. Look for Dwight Howard and DeMarcus Cousins to battle it out in the paint in Atlanta, while Philadelphia will look to ramp up Embiid and Okafor's minutes and grab their first win of the 2016-17 campaign.