There are plenty of storylines surrounding the game between the Golden State Warriors and San Antonio Spurs tonight. This is the first time that the Spurs will be without Tim Duncan even suiting up, as he retired this past offseason. This is the first regular season game with Kevin Durant donning a Warriors jersey. This might possibly be the matchup in the Western Conference Finals as both teams are favorites to go one and two in the standings. Regardless of all the buzz, both teams will focus on starting their season off strong.
Last season, the Warriors went 3-1 against the Spurs with two of their wins being by substantial margins. It was pretty one-sided for the most part as the Warriors just had too much firepower. However, their sole win came because the Spurs played some of the best team defense seen all season. But now, the Spurs have to worry about yet another offensive juggernaut in Durant.
Preseason Performances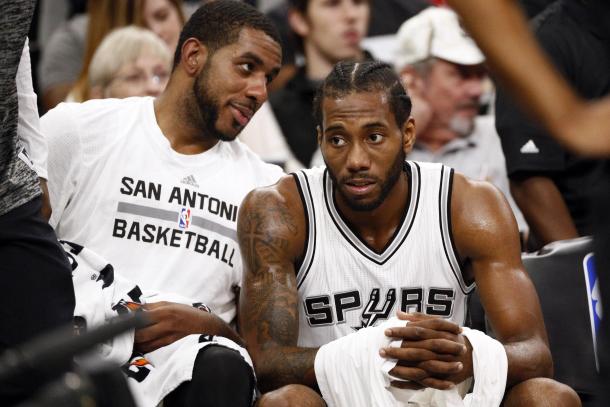 As expected, there was no stopping the 'big four' whenever they took the floor in the preseason. Four players that can knock it down from range but also drive in the post when overplayed and kick it out to the open man. So far, the chemistry seems to be really good, but it's hard to predict whether that will last throughout the year.
What hasn't looked too good was the bench for the Warriors. But will that be that much of a problem in the regular season, when the stars will have even more minutes and can be put in different lineups throughout the game? Probably not. Other supposed issues like rim protection and post game have not proven too bad either so far.
The Spurs also had a solid preseason as they went 4-2. They played really good defense throughout, but their offense was kind of lacking. Despite losing Duncan, they added Pau Gasol, who has looked solid in his place so far. They would have to be playing their best on both sides of the ball in order to upset the Warriors.
This game could definitely go either way: either the Warriors will make the Spurs an example of the destruction they will cause on a nightly basis or the Spurs will show the league that the seemingly unbeatable might not be so amazing after all.