Bad blow for the Toronto Raptors as Jared Sullinger is expected to miss several months with an apparent left foot injury, with the NBA regular season about to kick off.
According to Adrian Wojnarowski of The Vertical, Sullinger will undergo surgery on Monday in New York for a screw insertion into his fifth metatarsals and is out indefinitely.
The surgery is reportedly for preventive measures to diminish stress reactions.
Sullinger, who has been out of the lineup for the Raptors during most of their preseason matchup, with what was called a sore left foot, that he suffered in first action with the Raptors against the Golden State Warriors.
Sullinger's journey to the Six
After spending four seasons with the Boston Celtics, Sullinger signed a one-year deal for the mid-level exception this past summer with the Raptors organization.
Sullinger averaged a solid 10.3 points, 8.3 rebounds, and 2.3 assists on 43.5 percent shooting in 23.6 minutes a game, this past season with Celtics.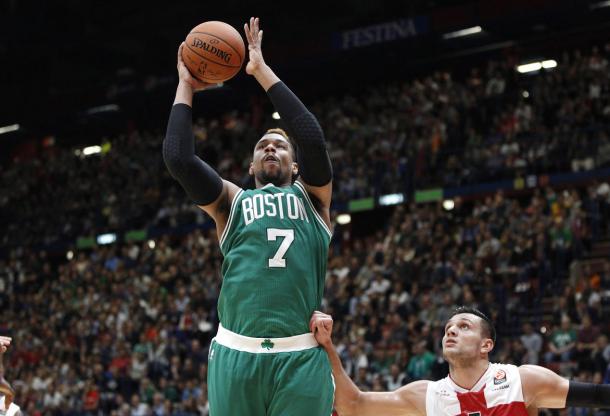 Sullinger, who was in search of a fresh new start; up north of the border, will have to put that on hold momentarily and watch from the sideline as his new team kicks off the season without him.
Head coach Dwane Casey hinted on Friday before the Raptors took on the Washington Wizards in their last preseason matchup, that Sullinger might not be ready at the start of the season, according to Ryan Wolstat of the Toronto Sun.
Sullinger was expected to start for the Raptors at the power forward slot alongside Jonas Valanciunas on opening night.
With the Raptors set to take on the Detroit Pistons on Wednesday, for their first regular season matchup; we'll have to wait and see who Casey decides to roll with, as he has a ton of options on the plate.